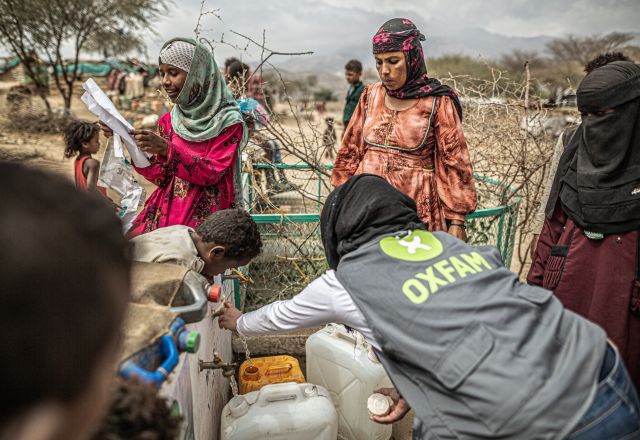 Safeguarding In Action
Keeping people safe is a vital part of our work worldwide.
Safeguarding In Action
As a global organisation, we continually review and update our robust safeguarding policies and practices. Holding governments, businesses and other organisations accountable for their actions is one of Oxfam's four key approaches to ending poverty and injustice - and we have a responsibility to hold ourselves to account, too.
It is our priority to ensure that our staff, volunteers, partners and those we serve are safe and valued in the workplace and across our programmes. We will not tolerate sexual misconduct nor stand for harassment of any kind.
Ongoing work in Oxfam Ireland
In February 2018, Oxfam agreed on a comprehensive global action plan (our 10 Point Plan) to review and update our safeguarding policies and procedures in line with global best practice.
Since the beginning of our 10 Point Plan to review and update our safeguarding policies and procedures across Oxfam Ireland and the confederation, we continue to make significant progress in strengthening our own all-island safeguarding systems by:
Providing training on our robust policies and procedures. This includes safeguarding policies specific to our work in Northern Ireland and the Republic of Ireland as well as globally
Reforming our HR systems, including by strengthening our referencing processes and enhancing our staff inductions and performance management to include a focus on behaviours, culture and safeguarding
Introducing new standard operating procedures to improve safeguarding reporting here and throughout the confederation
Responding to feedback from staff gathered at seven different Living Our Values workshops with a total of 151 participants from across the organisation
Signing up to the Dóchas Safeguarding Code, in addition to continuing to adhere to existing code.
​We are committed to making Oxfam Ireland a safe place to work and volunteer and will continue working to develop even more robust policies that prevent abuse and protect, value and empower people.
In our last financial year (2021-2022), we received no complaints in Oxfam Ireland relating to safeguarding, nor do we have any open safeguarding cases.
Ongoing work across Oxfam globally
As an international organisation, we remain committed to working with others across the sector and in government to implement changes that protect people and prevent abuse all while working to ensure that gender equality becomes a stronger part of our work.
As part of our 10 Point Plan, we established an Independent Commission on Sexual Misconduct led by women's rights experts and asked them to hold us to the highest standards in reviewing all aspects of our culture, policies and practices relating to safeguarding.
They released their final report in June 2019 and we accepted their criticisms and welcomed their recommendations, many of which we have already acted on.
We are committed to proving regular updates on progress against our 10 Point Plan.
To date, we have:
Increased budget, resources and staff to drive culture change across the entire confederation
Introduced new policies on child safeguarding, protection, sexual diversity, and ethical content gathering
Reformed our HR systems to strengthen our referencing processes and better recruit and train staff and volunteers
Introduced a new performance management process that emphasises accountability
Implemented new standard operating procedures to improve timeliness and consistency of safeguarding reporting
Planned for a new global safeguarding shared service and case management system
Completed a staff-wide survey to help us to understand our culture
Started workshops and staff initiatives for self-refection, discussion and actions to change our culture
Made an organisation-wide commitment to make gender equality an even stronger part of our work
We are determined to show leadership when it comes to safeguarding, implementing and championing policies and procedures in line with national and international best practice.
Above all, we will continue to work hard to strengthen our systems so that we can do more and better for the world's poorest and to ensure that nothing stops our life-saving and life-changing work.
We cannot do this without our supporters. With your ongoing help, we will continue to support people affected by poverty, disaster and injustice, putting their safety and dignity first.
Reporting
If an employee, volunteer, partner, consultant or contractor suspects misconduct has, or is about to occur, we encourage them to communicate their suspicions without fear of reprisals and in the knowledge that they will be protected from victimisation and dismissal.
Safeguarding concerns and fraud/corruption-related misconduct can be reported to Oxfam Ireland via email or Oxfam International via online form
All reports are confidential and we will only share the details with the appropriate team members to progress your complaint. Reporters/survivors/complainants can choose to stay anonymous. Please see the data protection notice for information on how your information will be process.
Oxfam International Privacy Policy
Oxfam Ireland Privacy Policy
It is our priority to ensure that our staff, volunteers, partners and those we serve are safe and valued in the workplace and across our programmes. To achieve this, we are continually working to improve our policies and procedures, safeguarding processes and culture.
We completely condemn and will not tolerate any form of abuse in the workplace or across our programmes and are continually working to improve our culture and safeguarding processes.
Adapting to a new context
Since 2020 the COVID-19 pandemic has impacted on plans. It has brought unprecedented changes for individuals, families and communities. The risks related to sexual exploitation and abuse are heightened in the face of stress, fear, economic uncertainty and chaotic environments. At the same time, the barriers to reporting and responding have also increased.
Oxfam acted fast to adapt to this new context. In response, we have created a number of tools for staff and partners and we have been working in collaboration with interagency mechanisms to support and deliver best practice initiatives in these unique circumstances.
Our progress report
As part of our commitment to transparency and accountability, Oxfam reports every six months the progress it makes to improve safeguarding and culture and discloses its global case data for that period.
In our latest report, we've started including progress on other areas that are vital to ensure a safe and inclusive workplace for the people we serve, our staff, partners, and all other stakeholders. For the first time, Oxfam publishes its globally consolidated case data on fraud and corruption and introduce its work to prevent any financial misconduct.
Our Progress: Stronger Safeguarding and Reforming Our Culture
New STANDARD OPERATING PROCEDURES to improve timeliness and consistency of safeguarding reporting
Plan for a new global SAFEGUARDING SHARED SERVICE and case management system
New POLICIES on child safeguarding, protection, sexual diversity, ethical content gathering
Increased BUDGET, RESORUCES AND STAFF
Staff-wide SURVEY to help us to understand our culture
Starting workshops and staff initiatives for SELF-REFLECTION, DISCUSSION AND ACTIONS to change our culture
ENHANCED STAFF INDUCTION COURSE with focus on behaviours, culture, safeguarding
Introducing a new PERFORMANCE MANAGEMENT PROCESS that emphasizes accountability.
Organisation-wide commitment to FEMINIST PRINCIPLES AND EQUALITY