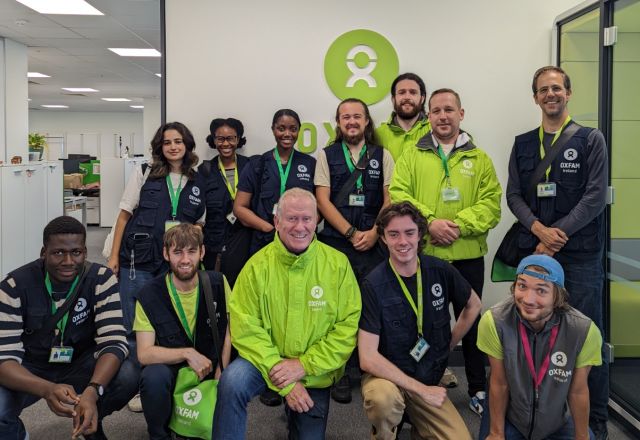 Our Fundraising Team
Our Direct Dialogue and Street Campaigning fundraising teams (meaning you'll see them out and about) help us work towards our vision of a just and sustainable world.
Our Fundraising Team
Direct Dialogue fundraising plays an important part in helping us to reach our fundraising targets and enabling us to deliver poverty-beating, planet-protecting programmes with communities across the world.

Our Street Campaigning teams bring our influencing messages – from tackling unfair tax rules to supporting refugees and migrants to claim their rights – to the public, empowering people to take action that tackles inequality, poverty and injustice.
From Monday, 20th  November 2023 our Direct Dialogue team in the Republic of Ireland will be in the following locations:
Street Campaigners:
South William Street

Camden Street

Capel Street

Central Bank

Wicklow Street
Door-to-doors:
Clondalkin

Poppintree

Finglas

Ballymun

Swords

Tallaght

Ranelagh

Donnybrook

Clonskeagh

North Glasnevin

Kilbarrack
Our fundraisers are also available on the telephone and they are using the following phone numbers to update you on our current work and ways in which you can help.
If you have any enquiries or feedback please contact Clíona Martyn, our Regular Giving Manager at IRL-fundraisers@oxfam.org or call 01 6727662 or 087 7438587. Clíona and our Fundraising Team are always delighted to hear from you.