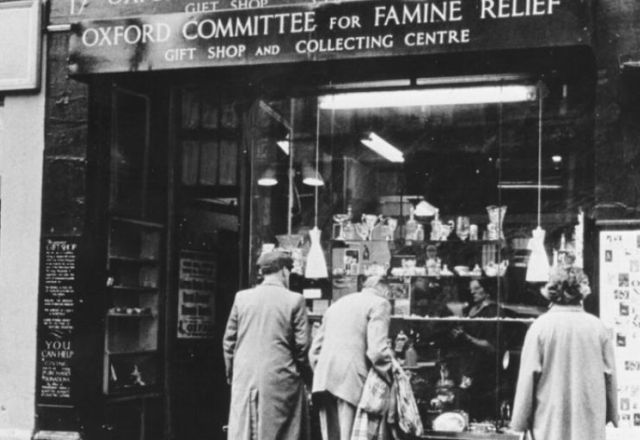 Over 75 years
One amazing movement to end poverty.
Oxfam Ireland History
Oxfam Ireland has been in existence for over 60 years.
We started off raising vital funds through our shops and we have grown into a movement of people across the island committed to ending inequality, and the poverty and injustice that stem from it. Together, with people and communities at home and across the world, we influence those in power, implement development programmes and respond to humanitarian crises.
In 1962, Oxfam Ireland opened its first shop in Co Down, and was officially established in 1973. Today, we are one of 21 independent Oxfam affiliates operating across the world. Oxfam was first established in Oxford, England. It began during World War Two. An Allied naval blockade of Greece led to medicine shortages and a famine, and so a National Famine Relief Committee was set up in 1942. Its role was to lobby the British government to allow essential supplies through the blockade and to raise funds for war refugees in Europe. That same year, the Oxford Committee for Famine Relief met for the first time, and by 1949, it had broader objectives. It was focused on the relief of suffering arising from wars or other causes in any part of the world. By then, it had become known by its abbreviated telegraph address, Oxfam. In the 1950s, refugees in Korea, Hong Kong and Vietnam, as well as locations in Europe, received aid from Oxfam.
Today, Oxfam supports communities impacted by inequality and injustice. We're fighting for a fairer world where nobody is trapped in poverty, and everyone can have a real say in the decisions that impact their lives.
1942

The Oxford Committee for Famine Relief raises funds for war refugees and lobbies the British government to allow vital food and medical supplies through a blockade and into Greece.

1957

10.5 tonnes of clothing, over 650 sacks, collected in Belfast to support people in need.

1960

An appeal for the Congo, World Refugee Year, the Freedom from Hunger Campaign and an endorsement by The Beatles raise Oxfam's profile, with donations coming in from across the island of Ireland. The Bewley family, known for their cafés, become supporters.

1962

Sheila St. Clair, from Co. Down, becomes Oxfam's first paid employee in Northern Ireland, and she begins a retail operation selling Christmas cards and, over time, other goods. Oxfam's shops not only support people in poverty across the world, but also provide quality clothes and other items at affordable prices.

1966

A famine tears through Bihar in India, and Oxfam sends volunteers to run a major food programme - the first time the organisation became directly involved in a long-term emergency. During this time, Oxfam also established the provision of village water supplies as a main aspect of its aid to India and, today, water and sanitation are widely regarded as Oxfam's great technical strengths.

1972

Oxfam's first shop in Ireland opens on South King Street in Dublin.

1973

Oxfam Ireland officially comes into being. An RTÉ radio appeal for Ethiopia raises £10,000.

1979

Oxfam leads a relief effort in Cambodia, where a brutal regime led by dictator Pol Pot leaves more than one million people dead.

1980

Oxfam Ireland campaigns against apartheid in South Africa, highlights injustice and oppression in Nicaragua and raises funds for famine-stricken Ethiopia. More Oxfam shops, with their own distinct branding and appearance, open in the Dublin area and in Northern Ireland.

1987

An appeal for Mozambique raises £30,000 in Ireland alone

1988

25th anniversary of Oxfam in Ireland

1990s

Oxfam consolidates and grows in Ireland, with new shops opening outside Dublin . High-profile lobbying campaigns take place tackling inequality, injustice and war in Africa, Central America, Afghanistan, Cambodia, and the former states of Yugoslavia, among other countries.

1991

Mary Robinson, President of Ireland, addresses the annual conference of Oxfam volunteers in Ireland, praising their commitment and record of delivering change.

1992

Oxfam nominated for the Nobel Peace Prize. Along with other development charities, Oxfam joins the Fairtrade Foundation, with the aim of providing a fair price to farmers and producers.

1994

Oxfam's largest-ever humanitarian response is mounted in response to the genocide of an estimated 800,000 people in Rwanda and the ensuing exodus of more than 1.7 million refugees

1997

Oxfam Ireland becomes a seperate and independent body from Oxfam GB, although it remains an affiliate.

1999

Kosovo, Serbia, Guatemala, Honduras, West Timor, Rwanda, Kenya, Ethiopia, Angola, Palestine and Cambodia are among the countries to receive aid and support through Oxfam.

2004-2005

Over €1.6 million raised to help victims and survivors of the Indian Ocean tsunami.

2005

Belfast office moves to North Street.

2010

Jim Clarken is appointed Chief Executive of Oxfam Ireland.

2013

Oxfam Ireland Headquaters move to Portview House

2018

Dr Susan Murphy is elected Chair of Oxfam Ireland.

2020

Belfast office moves to Elizabeth Street.