5 mins read time

Published:

22nd March 2021
11 years on, Syrian women are still focused on simply surviving
"I'm afraid I would wake up one day to find nothing to fill the stomachs of my little children" ~ Nesreen
Eleven years since the beginning of the conflict, Syrian women are still focused on simply surviving. People are stuck, or falling deeper into poverty.
Nesreen, a mother of four from rural Damascus, continues to live with the effects of the eleven-year conflict, with no end in sight. Every day is a struggle to survive, and like so many other Syrian women Oxfam works with, whether she can put enough food on the table to feed her family is a daily concern.
Since war broke out in the country, everything has changed for Nesreen and her family of six.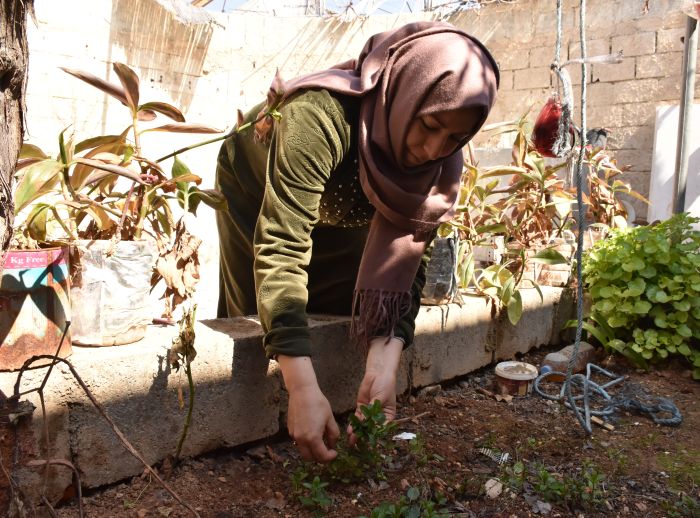 I remember one dark afternoon, six years ago, when the sounds of explosions started rising all around us. Moving to the nearest basement in the neighbourhood to hide with my little children was as risky as staying in our house. I thought, if we're going to die today, then let it be right here, in our home. Nothing will ever erase those memories from my heart and mind.
Three years ago, life gradually returned to normal in Nesreen's town.  For the first time in almost seven years her husband found work, the family started to fix the damage to their house and the children returned to school. However, their hopes that the conflict and its impacts were coming to an end were dashed.
The massive repercussions of the pandemic coupled with the collapse of the Syrian pound and the spillover from the financial crisis in Lebanon has pushed more and more Syrians to the brink.
Skyrocketing prices of food and people's inability to afford the most essential food items has meant women are reverting to extreme strategies to cope, such as reducing the number of meals each day, or being forced to buy cheaper, less nutritious food. 
This is the current reality for Nesreen and her family.
We have had to cut down on the types of food we buy as well as so many other needs like clothing. It might be safer now, but the economic situation is unbearable. I'm dying inside when my youngest daughter needs her medication and I can't afford them.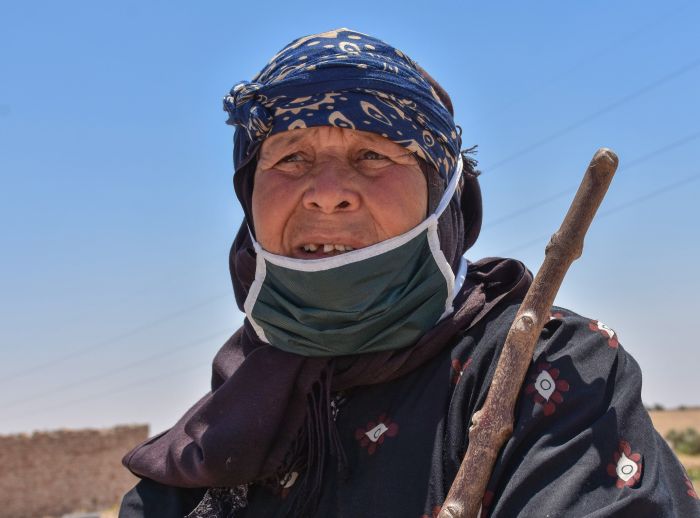 Our life revolves around farming. Before the war, we made a good income from our land. And we could afford a modest but comfortable life. When war broke out we had to flee our hometown and stayed away for almost five years. When we finally got the chance to return home, we found everything had gone. The past year has been extremely tough. We had to cut down on our expenses and reduce the size of our food portions. In these rough times, we can't help but feel broken. Today, after eleven years of war, I still can't see an ending to all our suffering. I hope one day my children will have a better life than the one I'm having.
When war broke out in Syria, I lost contact with my ex-husband. To this day, no one knows whether he's still alive or dead. I was supporting our six little children by myself. As the war dragged on, we lost almost everything; our house, our crops, the modest life we once had. Staying in our town became too dangerous. We had to go and leave everything behind, moving from one town to another for five years.  Three years ago, we returned home and all I could think of was how to start over. I thought I had survived the worst. I survived the conflict, I was forced to leave my home, and I lived through a bad divorce, but nothing is compared to how I'm living now with my children. This war turned our lives upside down and today, even after eleven years of war, I still cannot imagine leading a normal life again. I'm afraid one day soon we'll have nothing else to eat but herbs and leaves.
For thousands of families like Nesreen's, Lubana's and Tahani's the situation is getting worse. The WFP recently found 12.4 million Syrians are going to sleep hungry, an increase of over three million people from 2020. Between 2019 and 2020, food insecurity increased a massive 42 percent. In the same year, 80 percent of Syrians were living below the poverty line.
Related Blog Articles