8 mins read time

Published:

2nd May 2014
An incredible story of survival against all the odds in South Sudan
A major humanitarian crisis is unfolding in South Sudan where more than a million people have been forced from their homes by fighting. These people need water, food and protection from the violence. Below is one mother's incredible story of survival against all the odds.
Martha Nyandit (42) and her six children are amongst the thousands of people who have fled several rounds of violent and bloody fighting in and around the town of Bor in Jonglei state.
With gunshots ringing through the night, Martha only had time to pick up a few things – 300 South Sudanese pounds (€50/£40), some clothes and 10 kilos of sorghum grain before fleeing to an island in the middle of the river Nile.  
The island was no paradise. It was the first stop on a journey clouded by hunger.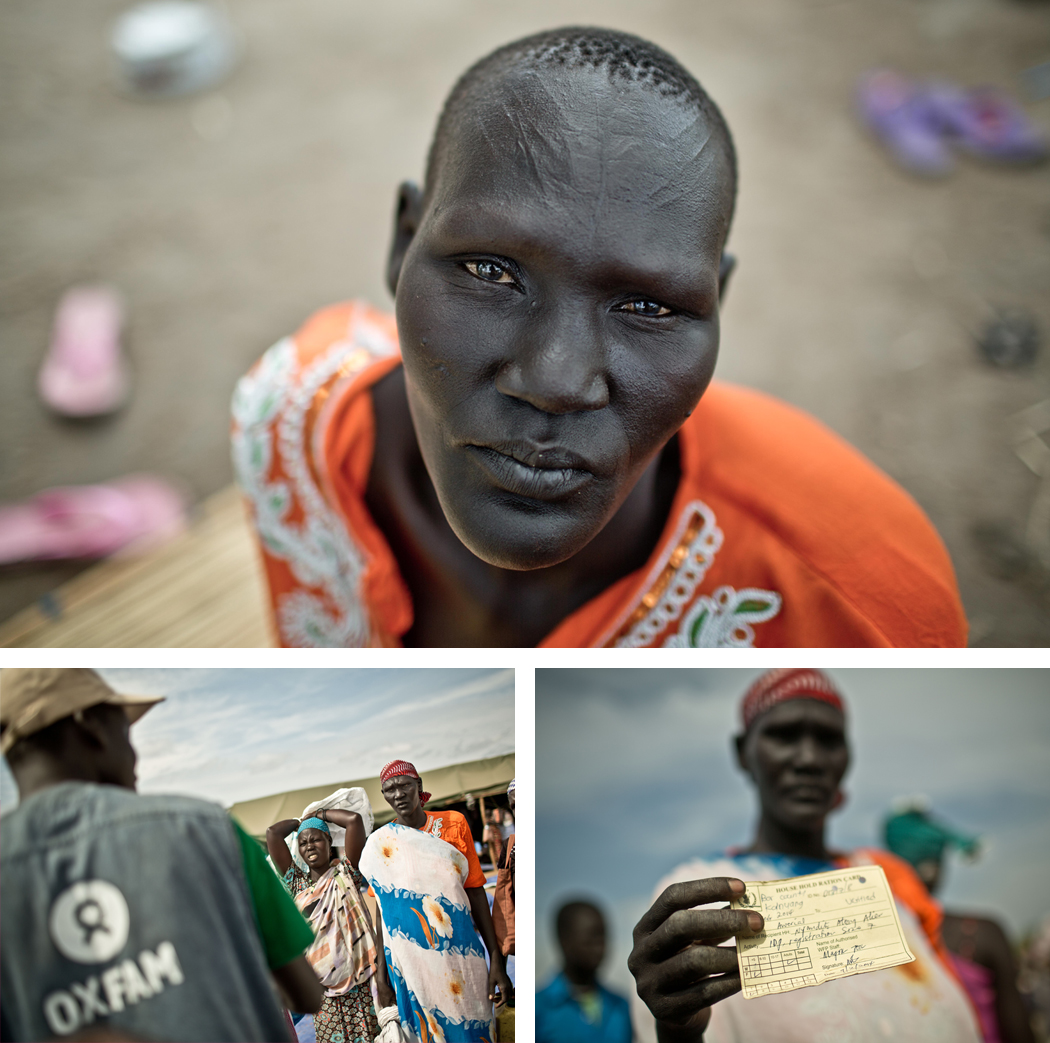 Clockwise from top: Portrait of Martha Nyandit, South Sudan. Martha shows us her registration card. Martha waits for food at a distribution. 
Photos: Pablo Tosco / Oxfam
The precious grain she had managed to rescue was whole and so needed to be ground by a hand grinder or a grinding stone, neither of which anyone among the hundreds of people on the island had with them.  With nothing else to eat, Martha had to boil the grain whole.
"For the adults and the older children this was okay but the small children couldn't eat it, they complained it was tough and hard." 
Asked how she coped with hungry children, she says: "It was a challenge and honestly, I had no method of coping with them.  But some of the others hiding had some food which they shared with my children.  I thank God for this help."
Eventually the grain and what little else others had brought ran out. The families became so desperate for food that they would travel back to the mainland in dug-out canoes, risking their lives under the sound of artillery fire to find the next meal. Then one morning, when these canoes were waiting on the shore for their owners to return, some armed soldiers stole them and crossed back over the river to the island where Martha, her family and many others were hiding.
"The armed men came ashore and started shooting, so we quickly ran down into the reeds where they couldn't see us. They didn't know where exactly we were so they sprayed bullets into the reeds."
Martha's 11-year old son Kuol was injured by the gunfire when a bullet grazed the skin on his ankle, a lucky escape as she said several people were shot dead.  At that point, with the soldiers on the island, Martha and the children had no place to hide but in the river itself.
Clockwise from top: Martha Nyandit collects dirty drinking water. Martha talks to Oxfam's Grace Cahill. Martha grinds sorghum grain - a meal for her children. Photos: Pablo Tosco / Oxfam
"I knew I had to get us down into the water for us to be safe.  The water came up to my chest, I had one child on my back, the baby around my neck and one floating on my arm. The others were able to go on their own."  
Martha explained to my colleague Grace Cahill, how along with several other families, they spent the entire day in hiding between the river and its bank, trying to make as little noise as possible in case they were caught by the soldiers.  Martha had to go to extraordinary lengths to keep her young children quiet.
"Kur (aged four) kept asking me where his elder siblings had gone off on their own.  He kept screaming 'Where's my brother? Where's my brother gone?' I needed to keep him quiet so lay on top of him on the shore. He had mud all over his face but it stopped the sound of him crying.  I told him he must stop asking questions because we need to survive."
After a day spent submerged in the water, with the sound of fighting on the island and nothing to eat, the families managed to telephone relatives already in Mingkaman camp, home to thousands of displaced families like Martha's, and got a barge sent after dark to rescue them. 
In Mingkaman the family arrived with nothing, Martha told me how she had lost the 300 South Sudanese Pounds and all of the family's clothes in their escape from the island.  But upon arrival, Martha discovered it wasn't just clothes and money the family had lost.
"I had been asking if my husband was alive since January but people refused to answer me straight.  It was not until a few weeks ago, here in MIngkaman, that a cousin came to bring me the news that he was killed."
Martha's husband was a soldier in the South Sudanese government army when he was pulled into action and killed in the town of Bor.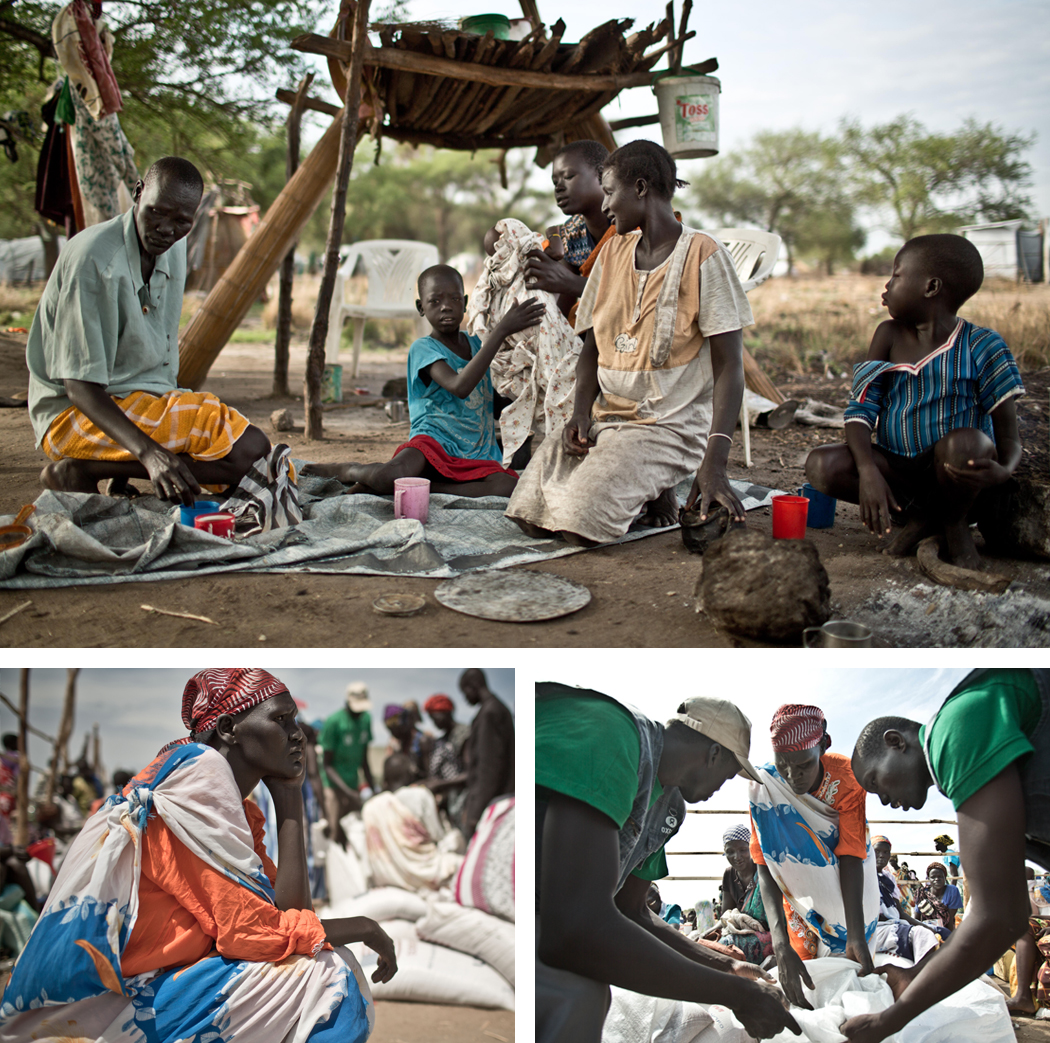 Clockwise from top: Martha and her family. Oxfam staff measure out food for Martha at a distribution. Martha waits for food to be distributed. Photos: Pablo Tosco / Oxfam
"Now I feel like it was recent even though he has been dead for three months. I used to wake up needing to get on with my day, needing to get on with things but I felt so weary, I couldn't get things done, I needed to know where he was."
Martha recalled with sadness how it was her husband who had built their home back in Bor where they had two thatched huts and one smaller shelter they used as a kitchen. The family also took care of eight of their own goats.  
At the moment, Martha and her six children only eat twice a day, rather than a normal three times a day.
"We eat once around 11 and 12 in the morning when I cook porridge and again between 6 and 7 in the evening.  When the food is scarce I give breakfast to the children and then I eat only once."
"When there's no food I ask for a loan or I beg from my neighbours who have fewer children and so might have some of their ration leftover.
"Sometimes I feel so weak I worry I will not have enough milk for the baby.  Sometimes I'm so weak I feel like I'm going to collapse; I can't see when I stand up.
"Maybe one day people will see vulnerable people like us and decide to help more." 
Asked about how she managed to be so resilient, she simply replied: "But it's the responsibility of a single mother to put up and wait for better times."
Better times must come soon for this family who had already been through so much in last few months on their search for safety. 
We are now supporting Martha and 95,000 other people in Mingkaman, distributing enough food to feed a family for a month. Every family receives two 50kg bags of sorghum grain, 10.5 kg of lentils and 7 litres of oil. 
In addition to food, seed and tool distribution, we are also providing a full water and sanitation response – treating water directly from the Nile so it's safe to drink, building latrines, distributing soap and teaching people simple methods for good hygiene.
We are also calling on the international community to step up diplomatic efforts to promote peace talks and saves lives with a massive injection of emergency aid.
Until then, this rapidly worsening crisis threatens to become an even larger catastrophe. 
Please donate here, call 1850 30 40 55 (Republic of Ireland) or 0800 0 30 40 55 (Northern Ireland) or go to your local Oxfam shop.
Colm Byrne is Oxfam Ireland's Humanitarian Manager. He is working in South Sudan on our emergency response.
Related Blog Articles