6 mins read time

Published:

26th June 2014
South Sudan's hope for a peaceful future
30-year-old Nyoruop Puk has been a resident of the UN House refugee camp in Juba, South Sudan, after conflict broke out in December 2013. 
Since then at least 10,000 people have lost their lives and more than a million people have been forced from their homes, while the number of South Sudanese refugees in neighbouring countries has risen to over 360,000. In total, 4.9 million people now need urgent humanitarian support. 
Nyoruop is balancing a large sisal sack on her head. It contains grain that will feed her family. She hands a voucher to the charcoal vendors and smiles, waiting patiently for them to give her the bags of charcoal equivalent to that voucher, which has been provided by Oxfam.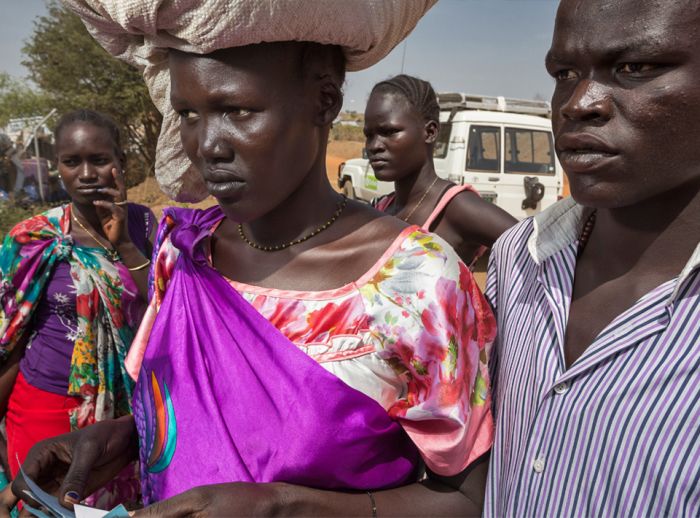 Above: Nyoruop Puk, carrying a sack of grain. Photo: Mackenzie Knowles Coursin/Oxfam
Nyoruop continued: "I came here to protect myself and my family. When my we heard about the fighting, we knew that we had to leave so that we are not targeted. I was nine months pregnant at that time."
She was not only running for her life, but for the unborn baby she was bringing into the world. 
"We had to walk to UN House first before thinking about anything else. After arriving here, we found a space and were given things like canvas sheets, some food and also water."
Nyoruop gave birth the next day. It was as if the baby knew that it was safe to leave the comfort of his mother's womb. It did not matter whether it was at home or at the UN House. Events as big as the one that occurred in Juba are not enough to stop nature's course. 
"It was difficult but my friend Nyapeth Khor located the health workers and they helped me deliver my baby. He is healthy and doing well."
After Nyruop receives the charcoal, she walks briskly to her tent in block four of the UN House compound. Waiting for her are her new born baby and her sisters, visibly excited to see her. She reaches for the heavy load on her head and lays it down on the ground, at the same time she sets down the bags of charcoal. It's time to prepare lunch. She sits down and reflects on her life when canvas sheets were not her home. 
"We came here together and six of us share this tent. It's very hot and we're grateful that we at least have some kind of roof over our head. I used to live with three of my sisters in Kor Williams in Juba, Nyabok Madit, Martha Nyalam and Mary Nyalong. My sister, Martha Nyalam, has one child, and I have another.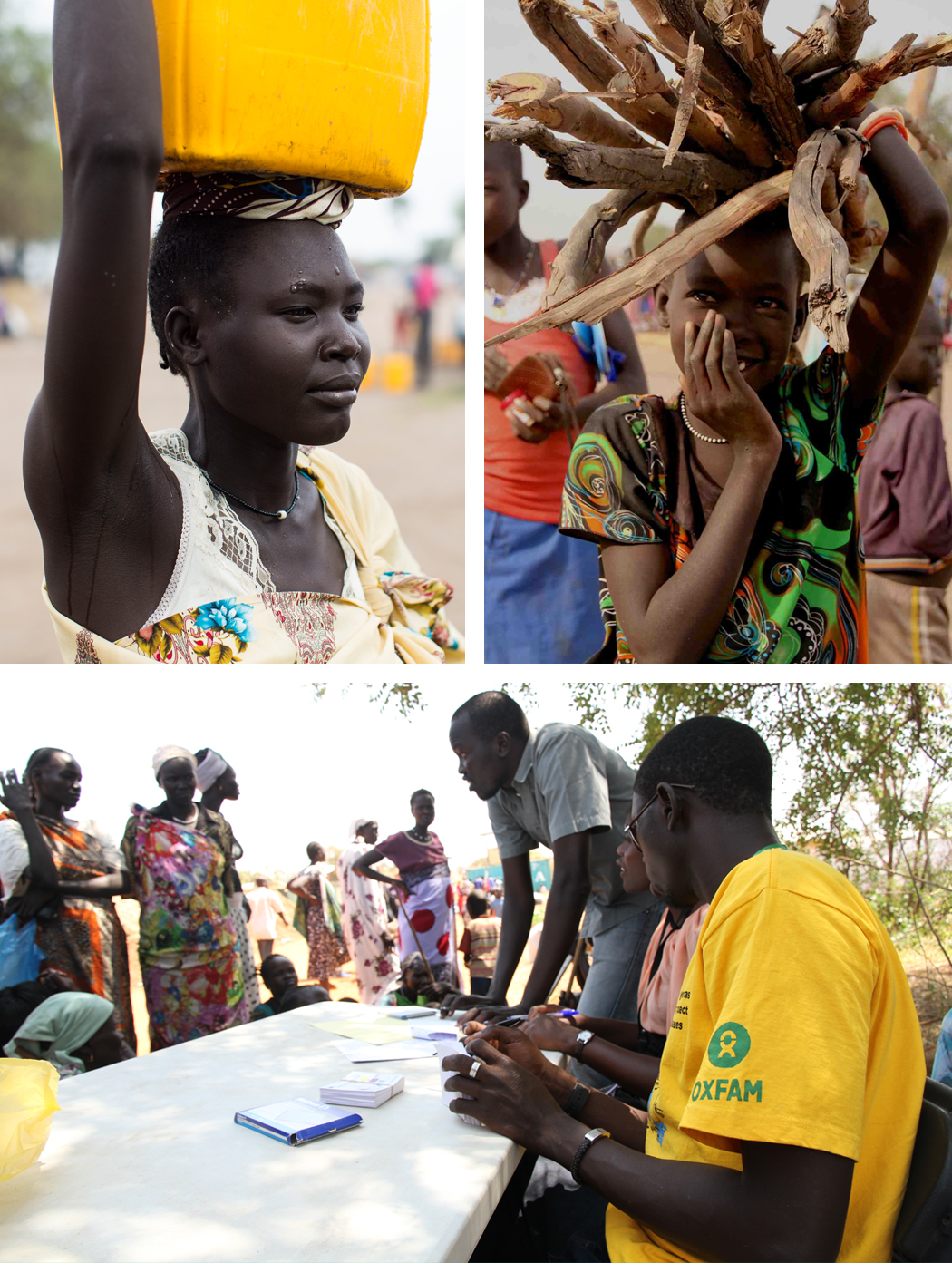 Clockwise from top: Ayak Majok, 20, carries home water from an Oxfam water point in Mingkaman settlement. Photo by Mackenzie Knowles Coursin/Oxfam Firewood is becoming more scarce in Mingkamen camp, Awerial County, South Sudan. Photo: Oxfam/Aimee Brown Oxfam staff distribute vouchers to be exchanged for charcoal at UN House. Credit: Oxfam/Aimee Brown 
With the help of her sisters, Nyruop gets the fire going. Dying embers on a metal stove near the tent are revived as she adds fresh charcoal and blows the flames to life. The first steps to preparing today's lunch, yellow lentils. Although a very limited meal, it keeps her family nourished through the day. However, it's not a sustainable and a healthy option. 
"I am happy that organisations are supporting us but grains are not enough for a healthy meal. We also need some vegetables and some meat if possible," she says. 
"The charcoal vouchers provided by Oxfam really help. Before that, we had to walk outside to fetch firewood and that could take time and could also be risky. Old people, if they did not have help, would struggle to fetch wood. Some would not go and collect at all because they were too old and could not do it. Now that it's close by and quite easy to get, it's really relieved some of the stress. Cooking or boiling water has become easier."
Finding safe water to drink was also challenging when they arrived. Before Oxfam set up its water supply system, clean water for cooking and drinking had to be bought. Sanitation was poor as organisations were scrambling to respond to the situation. This paid off because Nyoruop and her family now have unlimited access to clean water and sanitation facilities. 
"There is a water point close to our tent and also latrines and bathrooms. We feel safe in here."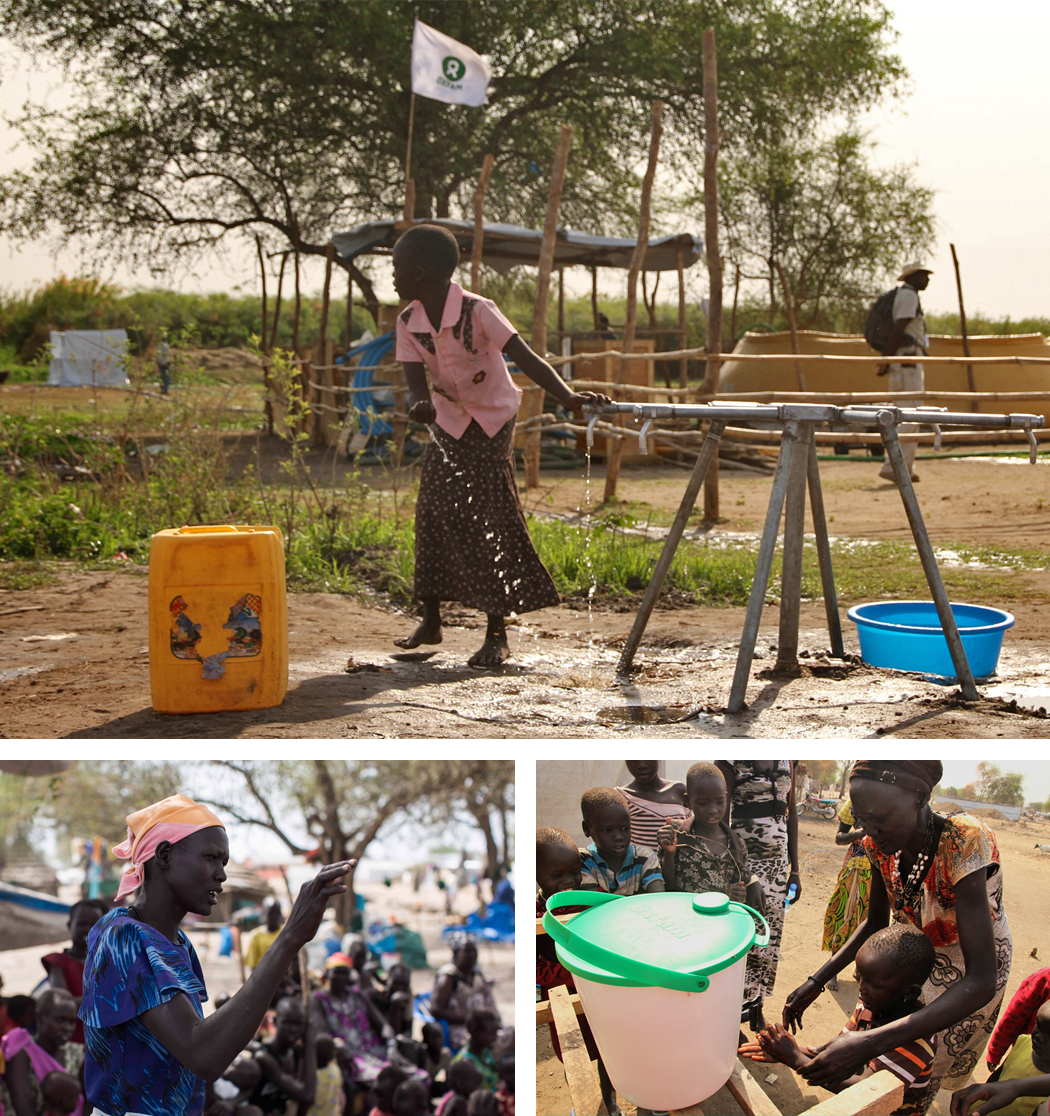 [Clockwise from top: Oxfam is helping to purify 1m litres of water a day. Photo: Oxfam/Aimee Brown. As a public health promoter for Oxfam in Mingkamen camp, Martha Nyandeng teaches children how to use latrines and properly wash their hands. Martha escaped from Bor with no savings or possessions, but the small amount she earns as a public health promoter with Oxfam means she has enough to buy food for her children. Photo: Oxfam/Aimee Brown. Mary Ajak Maluk shares her thoughts with Oxfam staff during a community meeting in Mingkaman. Oxfam regularly holds meetings with community members in order to better understand what's working well and what needs to be improved. Photo by Mackenzie Knowles Coursin/Oxfam
Leaving her home behind was a painful experience for Nyoruop and the rainy season is now bringing additional problems. "This house will not protect us from the rains. The material itself is not strong enough to shield us. We sleep on mats on the ground, so the water flowing on the ground is terrible, especially for my new born child and the other children in the camp," she says. 
The effects of the conflict have been devastating for many families in South Sudan. Nyoruop and her family now live in a small makeshift tent in an overcrowded, squalid camp where poor sanitation increases the risk of disease. Although it's temporary, she does not know how long they will have to stay.
"I don't know what caused the fighting, so I don't know what will end it. I just hope it ends soon. I would prefer to be at home – but not in Juba. My only hope is to go back home to Unity where we're from and where my husband is. I will feel the safest there."
Our Humanitarian Manager, Colm Byrne, on Morning Ireland
Related Blog Articles