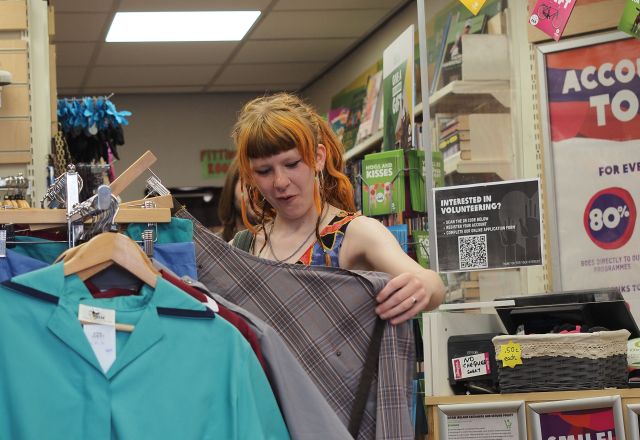 2 mins read time

Published:

22nd August 2023
Sharing is caring, especially when it comes to sustainability
Have you heard of the 30 wears rule?
It does what it says on the tin. When you're considering whether to buy a new item of clothing, ask yourself if you'll wear it at least 30 times. If the answer is no, then you should think about leaving it behind.
We can't tell the future, so maybe that dress you thought you'd wear to countless events is spending more time in your wardrobe than you'd like.
Well, an easy solution is to share your clothes with friends and family. This is one of the simplest ways to extend the life of your clothes.
We should channel the energy of the movie, 'The Sisterhood of the Travelling Pants.' In this, four friends discovered that one pair of jeans fit them all perfectly and shared them around for one summer.
While sharing clothes is a great thing for the environment and for your pocket, there can be some downsides. A trusted loved one might return your clothes with a stain that they swore was definitely there when it was given to them.
Here's a list to help you navigate the world of swapping and sharing clothes without falling out with your friends and family.
1. Ask for permission. This is the most important rule when borrowing clothes. Always ask, no matter how many times they assure you that they're fine with you helping yourself to their wardrobe.
2. Inspect the clothes. Both parties should have a glance at the garment and make sure they're familiar with any existing stains or issues. It saves heated debates later.
3. Ask where they're wearing it. When lending clothes, it's your responsibility to ask, otherwise they'll think it's okay to wear those delicate little pumps to a muddy festival.
4. Be realistic. If there's a very strong possibility that spaghetti bolognese will become an addition to the design on that white blouse, don't ask to borrow it.
5. Be honest about your size. We come in all shapes and sizes, so don't lie to your friend just so they'll lend you that skirt that you think you could force your way into.
6. Be clear on when clothes should be returned. When lending any garment, you need to let the other person know when you need it back. Also let them know how it should be returned, and if they should wash it or have it dry-cleaned.
Join us this September and dress for the world you want!
Related Blog Articles