3 mins read time

Published:

10th November 2015
South Sudan photo exhibit highlights stories behind stats
A new photo exhibition – Make Them Visible – opens this month in Belfast to highlight the situation faced by people displaced by conflict in South Sudan. 
World Press Photo award-winner Kieran Doherty, whose family is originally from Belfast, travelled last year with Oxfam to South Sudan. Kieran's striking photos from the trip now form a new exhibition in Belfast's Linen Hall Library, where Kieran will also deliver an illustrated lunchtime talk, to share his impressions of South Sudan and the human stories behind his images.
There is an acute humanitarian crisis in South Sudan, after what began as a localised conflict on 15 December 2013 quickly spread across many parts of the country. Over 1.5 million people have since been internally displaced as a result of the conflict.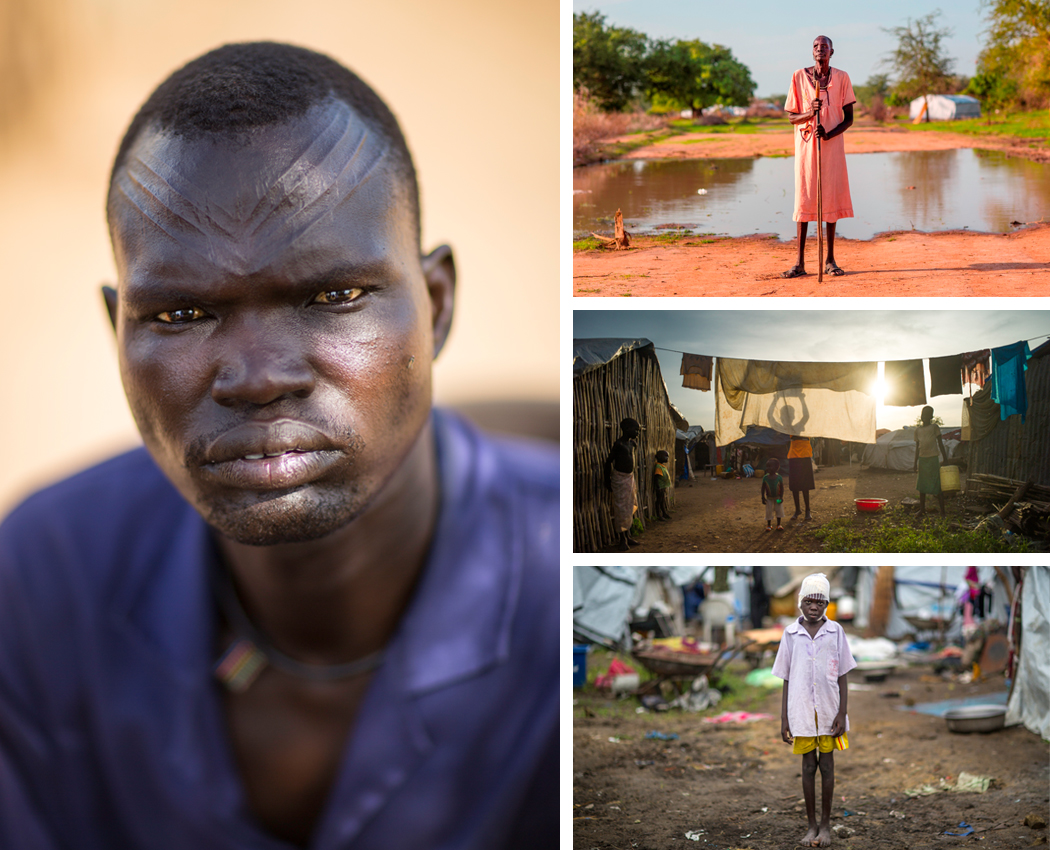 Above-left: 35-year-old Richard Corodo lives in St Mary, where he was treated for cholera. Oxfam has distributed chlorine sachets and clean buckets for people to treat their own drinking water, as well as rehydration salts to be used in emergencies. Latrines and hand washing stations have also been constructed to help prevent the spread of disease.
Above-right: 1. Nyanror Derwer Reeng (62) is widowed and is living with her daughter's family in Mingkaman: "All I think about is being free again. I'm blind but I can hear the fighting and I wish for peace in my country so I can go home again." 2. A woman hangs her washing out to dry between two shelters in Juba. Many leave behind their precious livestock and find themselves destitute, without belongings or a means of making money. Many families arrive in host communities which are already stretched.  3. Both government forces and an alliance of rebels have been accused of committing atrocities. Many families around the country have taken refuge at camps protected by UN peacekeepers. A camp in Bor, where people from the Nuer community were staying was attacked by armed youths. This ten-year-old boy was shot three times in the head and miraculously survived the ordeal. Photos: Kieran Doherty/Oxfam
The fighting which has forced them from their lands has also prevented them from planting crops. Almost 4 million people are estimated to be severely hungry, with 30,000 people experiencing extreme and dangerous hunger levels in war-ravaged Unity state. 
Oxfam is currently supporting 690,000 people with humanitarian assistance in South Sudan, including clean water, hygiene facilities, direct food aid, fuel and livelihoods support. Oxfam has also helped over 100,000 South Sudanese refugees in Ethiopia and 145,000 in Uganda.
Doherty said: "I met ordinary people forced into an extraordinary situation – vulnerable people in a forgotten crisis. 
"Behind each photo is an individual human being – just like you and me – who has had to flee, leaving behind belongings, a home, friends and often family. 
"Hopefully this photo exhibition can then help make these 'invisible people' visible by highlighting the situation of South Sudanese refugees and their families." 
Above-left: 1. Following an  attack in their camp, women were not allowed to venture outside to gather wood, which meant there was no fuel to cook the food that was being distributed. Six weeks later, the gates were opened for an hour to allow women to fetch as much wood as possible from designated areas. 2. Pooch Mangyak with his fish on the River Nile. With so many people away from their homes and unable to plant their crops again this year, the food crisis is worsening. The River Nile is a source of food for both locals and those who have newly arrived in Mingkaman. Oxfam is distributing fishing equipment to displaced families to help supplement their diet. Above-right: Portrait of Kieran Doherty by Simon Kreitem. All other photos: Kieran Doherty/Oxfam
The Make Them Visible exhibition runs in Belfast's Linen Hall Library from Tuesday 10th to Saturday 28th November, with a free lunchtime talk on 12th November at 1.30pm. The exhibition is part of EUsaveLIVES, an Oxfam campaign in partnership with the European Commission's Humanitarian Aid and Civil Protection department (ECHO), to raise awareness about the situation of refugees and displaced people
Related Blog Articles