2 mins read time

Published:

5th October 2020
Ethical winter goodies - Oxfam Ireland team up with Save The Duck
We have all felt the slight chill creep in over the last few weeks.
As we dust off our autumn wear to brace for the changing weather, we are delighted to announce the launch of a new collaboration with Save The Duck, manufacturers of outdoor wear - which will see a colourful range of high-quality 100 percent animal free jackets available in select Oxfam shops from today (Monday, 5th October 2020).
Save The Duck jackets are unique to the Irish market and will be retailing at 60 percent off, yes you heard that right, 60 percent off the recommended retail price! The new range of jackets will be of particular interest to shoppers concerned with environmental and sustainability issues, planet lovers, fashion lovers and outdoorsy adventurers alike.
Save The Duck pride themselves on luxury as 'a matter of quality of life and connection to the beauty of nature'. The company even set a world record by being the first entirely animal free clothing to ascend Everest in the history of mountaineering. They also became the first fashion brand in Italy to obtain B Corp certification meaning they put social and environmental impact objectives on par with economic-financial ones.
At Save The Duck we take care of the environment and all its inhabitants, promoting a transparent business model that manages natural resources responsibly.
So obviously, we are delighted to bring them to you, our loyal customers, at a fantastic price. Under our 4 Good Sustainable Business model, the collaboration was a natural fit as we both aim to protect our planet and its people, and both believe in transparent business models and the responsible management of natural resources in production processes.
By working with retail businesses like Save The Duck, our network of shops play a part in diverting textiles and other goods from landfill or incineration, and in doing so collaborations like this transform would-be greenhouse gas emissions into vital funds that support communities affected by the climate crisis worldwide.
In addition, by donating end-of-line or excess stock to our retail network, retailers and retail manufacturers extend the life of their products, lower their waste and therefore their carbon footprint by reducing pollutants that end up in our soil, water and air.
The Save The Duck jackets are available from today in select Oxfam shops. To avoid disappointment and bag your unique, ethical winter bargain - that's 'Good 4 You, Good 4 the Planet' – drop in today!
The Save the Duck range will be available in the following Oxfam shops:
Belfast, Northern Ireland: Botanic Avenue; Castle Court; Fountain Street.
Republic of Ireland: Cooks Street, Cork; Dun Laoghaire, Dublin; Galway; Georges Street, Dublin; Malahide, Dublin; Limerick; Rathmines, Dublin; Kilkenny
If you are a retail business or company who wants to learn more about Oxfam Ireland's 4 Good Sustainable Business initiative or are interested in becoming a Business Leader in Sustainability contact elaine.white@oxfam.org.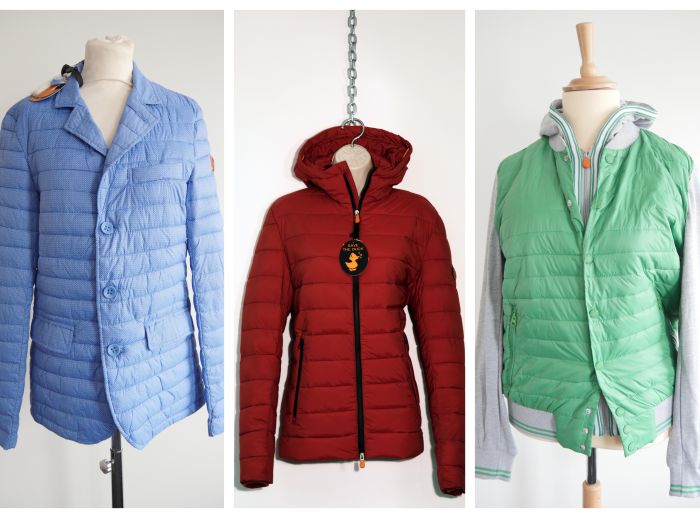 Related Blog Articles