4 mins read time

Published:

11th May 2022
4 links between the war in ukraine and the horn of africa hunger crisis
The world is facing a powerful convergence of crises. Conflict, COVID-19 and climate change are all contributing to record emergency aid needs.
The devastating humanitarian crisis in Ukraine has reminded us all of the need for global solidarity. But as the world watches Ukraine, we must also remember other crises around the globe. This is important since the economic impacts of the Ukraine crisis – including unprecedented food and energy price inflation – will be felt by the most vulnerable in our deeply unequal world.
One of the situations Oxfam is most concerned about is the hunger crisis in the Horn of Africa – spanning Kenya, Somalia and Ethiopia.
Here are some similarities, and connections, between this crisis and the war in Ukraine.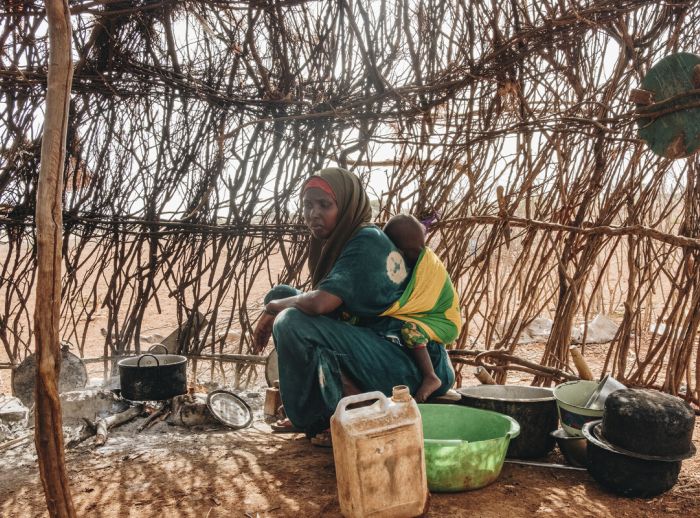 The Ukraine crisis will worsen hunger in the Horn of Africa
In recent years, conflict, COVID-19 and the climate crisis have deepened catastrophic food insecurity in the Horn of Africa. Over 14 million people in the region – about half of them children – were already experiencing extreme hunger. Now, the Ukraine crisis threatens to make things even worse. The war in Ukraine is disrupting supply chains and causing food prices to skyrocket. This will push more people to the brink of famine in the Horn of Africa, which imports 90% of its wheat from Russia and Ukraine. The number of people on the edge of starvation will rise to 20 million by the middle of 2022 if rains continue to fail and prices continue to rise.
In both crises, women and girls are suffering most
Humanitarian crises are hard for everyone, but particularly for women and girls. This is the case in both the Ukraine and Horn of Africa crises.
In the Horn of Africa – especially in conflict-affected areas – women and girls are facing extraordinary dangers to secure food for their families, including gender-based violence and sexual exploitation and abuse. Food insecurity also has tragic consequences for young girls. Desperate families sometimes resort to harmful coping mechanisms like pulling their daughters out of school or marrying them off in exchange for a dowry to secure some income. Since women are often responsible for caring for, and nourishing, their families, they tend to eat last and least. This makes them more likely to suffer from malnutrition, with consequences for their own health and the health of the babies they are carrying or breastfeeding.
In the Ukraine crisis, women and children make up 90 per cent of those fleeing the country. The gender and age profile of these refugees – who have lost everything and are often forced to put their trust in strangers – significantly increases the risk of gender-based violence, trafficking and abuse.
Both crises are equally urgent
The escalating violence and massive displacement in Ukraine are shocking and have rightly captured the world's attention. The geopolitical significance of the Ukraine crisis, together with 24/7 media coverage, has led to near record levels of funding for the humanitarian response. This fast and generous support stands in stark contrast to the attention given to other crises – including the hunger crisis in the Horn of Africa. Despite increasing needs, the humanitarian response for the region is woefully underfunded.
While the world watches Ukraine, we must remember the millions of people in neglected crises who are also suffering and in need of urgent support. Meeting humanitarian needs in Ukraine is vital, but donors must not displace funds that are badly needed to respond to challenges elsewhere. They must dig deeper and get creative. We shouldn't need to choose between helping a refugee from Ukraine or a Somali farmer who lost her harvest. All lives are equally valuable. Both these humanitarian crises are worthy of urgent support.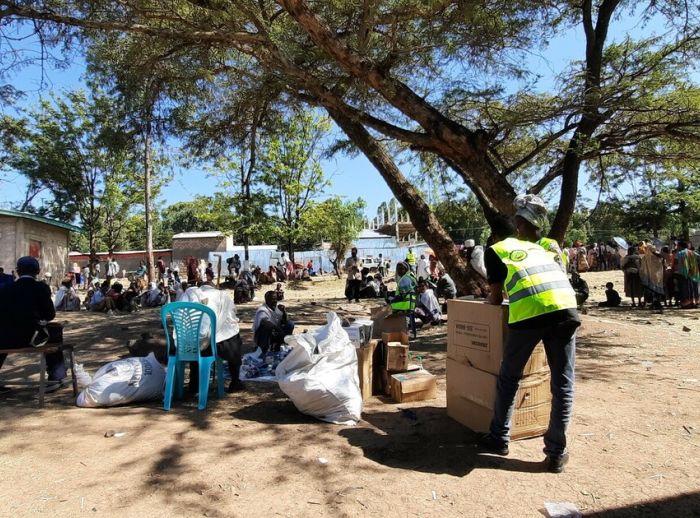 Oxfam is responding to both crises
When disaster strikes – whether it's war or a hunger crisis – Oxfam responds with high quality lifesaving assistance, emergency supplies and essential protection for the most vulnerable.
In Europe, Oxfam is working to set up safe travel routes for Ukrainian refugees. We are supporting partner organizations who are providing vulnerable families with essential items like food, water, warm clothing, hygiene equipment and legal support.
In the Horn of Africa, in response to the worsening food crisis in the region, Oxfam is providing cash and vouchers. Communities will be able to use these to purchase essential food items and to meet basic nutritional needs. We also provide agricultural inputs, including seeds and tools, with training on more climate-resistant production to better prepare farmers for the future.
Since the hunger crisis in much of the region is caused by a prolonged drought, we are trucking water to remote communities and drilling wells to get clean water flowing. Many families rely on livestock for food, so we are supporting livestock treatment and vaccination campaigns. We are also helping people who have been displaced by conflict and drought by training protection volunteers on gender-based violence issues, and distributing solar lamps to protect women and girls at night.
Related Blog Articles