2016 was surely a challenging but rewarding year.
The continuation of conflict across the Middle East and East Africa, the ever-changing face of our climate and volatile weather systems, the rising inequality which drives global poverty and of course, the escalating refugee crisis, are challenges which have undoubtedly caused much devastation and sorrow across the world. 
And with all the challenges that exist today, it can be easy to overlook what is being achieved. 
Over the last two decades, the world has seen the fastest reduction in poverty in human history. 660 million people have lifted themselves out of poverty. Average real incomes in developing countries have doubled, and life expectancy has increased by four years.
In the past 10 years, more than 50 million children have started school in sub-Saharan Africa.
And, thanks to the amazing support of our donors, campaigners, volunteers and staff, Oxfam's programmes this past year directly helped an incredible 22.2 million people around the world.
Because you were there to help people in crisis, we could be too. 
Every water pump you help install, every vegetable plot you help to dig, every child you send to school and every voice you've made heard has a powerful impact on people's lives.
Below is just a small snapshot of some of our favourite images which show how your support helped Oxfam make an incredible difference during 2016. Take a moment to savour the achievements you've made possible – and know that, with your support, we did this together.
BEST FOOT FORWARD
A loan from an Oxfam-supported women's saving group in Liberia's Tappita district helped Beatrice Mabiam to start selling shoes again. It's part of a scheme to help families get back on their feet after the Ebola crisis. Beatrice says: "I tell the Oxfam family thank you, big thank you, because you really empower women. Poverty is reducing so we really appreciate you." Photo: Tommy Trenchard/Oxfam
GREEN SHOOTS
Na and Sonphet Chantahun stand in a rice field in Vientiane, Laos. Over the past decade a paved road and electricity have improved life for their village's 50 families. But alongside this welcome progress, climate change has brought unprecedented and unpredictable weather patterns, disrupting harvests. Sonphet says: "I am happy to be working with Oxfam to set up the Disaster Risk Reduction committee in the village. I use the speaker system that Oxfam provided to give early warnings when there is a flood, so that people can move their possessions. We grow adapted rice from the Phonsung Agricultural Development Centre [an Oxfam partner]." Photo: Tessa Bunney/Oxfam
BEE-GINNING A NEW CHAPTER
Augustina lives in Nandom, northern Ghana, one of the poorest parts of the country. Oxfam is helping farmers to survive and thrive, by trialling new farming methods and alternative income-generating activities like beekeeping. "As a mother, life was stressful. We couldn't meet our needs. We couldn't buy the items we needed to send our children to school, like books, pens and school uniforms. Now the story is different. I can save money. I am benefitting from the bee farming, agricultural activities and livestock farming." Photo: Adam Patterson/Oxfam
KNOWLEDGE IS POWER
Bangladeshi teenager Onima volunteers for an Oxfam partner organisation and is pictured here leading a hygiene promotion session for girls in Mymensingh. Having grown up in the slum, Onima was inspired to share her knowledge with others. "When I was younger, I attended sessions like these myself. That's my inspiration. They taught me a lot and told me to share what I know." Photo: Tom Pietrasik/Oxfam
THE RIGHT TO REFUGE
2016 was a big year for our Right To Refuge campaign, which demanded safe refuge for all those forced to flee from their homes due to violence and conflict. Below, Oxfam campaigners Claire Payne, Joanna Sammons, Marissa Ryan and Dan Byrne meet an Tánaiste, Frances Fitzgerald outside Government Buildings ahead of the UN Summit on migration: Photo: Brian Malone/Oxfam; Underneath, Oxfam campaigners Emma Barronwell, Kelly Fisher and Christine McCartney at Belfast docks to mark the huge support in Northern Ireland for the Right to Refuge campaign. Photo: Alex Clyde/Oxfam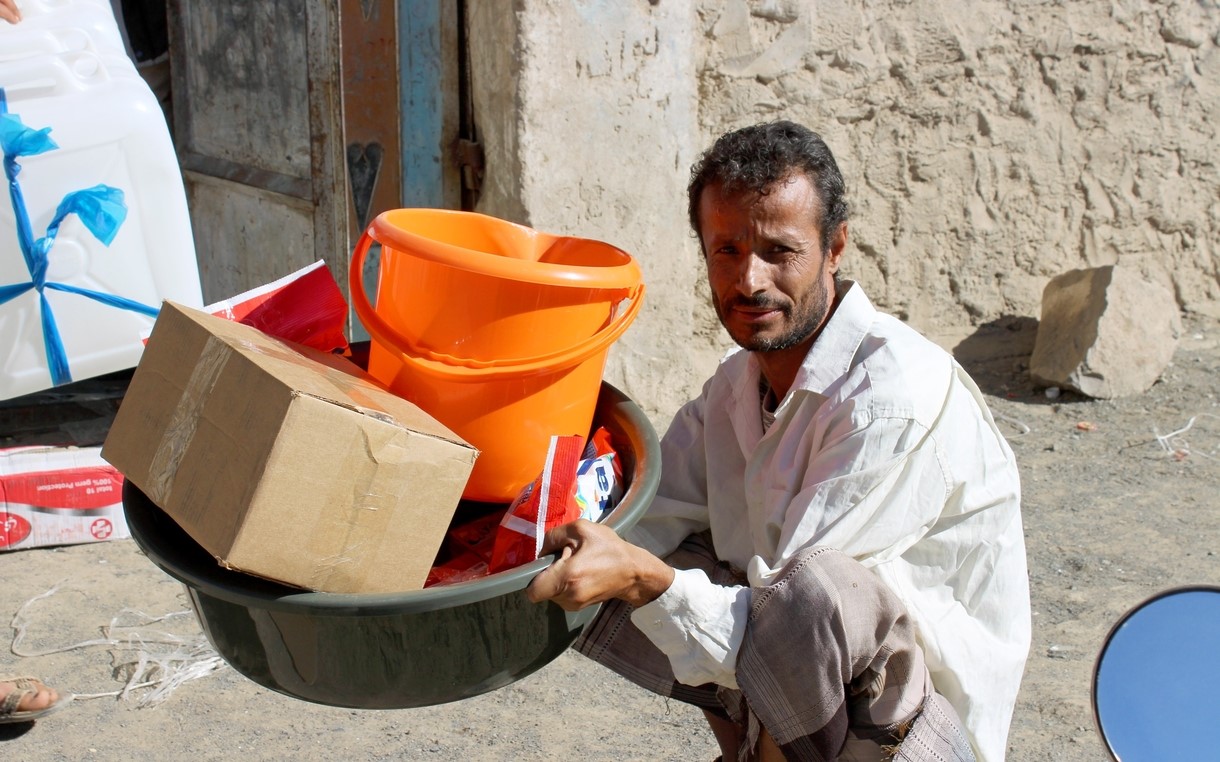 A CUT ABOVE
Qassim Daoud's* barber shop was looted and his home destroyed when ISIS took over Husseini in Iraq in 2014. Support from Oxfam after the village was liberated has helped him to rebuild the business. "My barber shop is a small shop but I like it. I like everything in my shop; it's my shop, the thing that provides me with an income so I love everything about it. Thank God that Oxfam came and helped me open my shop again." Photo: Tommy Trenchard/Oxfam *Name changed to protect identity
DAD'S ARMY
Alex Simusokwe, pictured with his daughter Ethel, is one of the men taking part in Oxfam's 'I Care About Her' project in Zambia which raises awareness about issues affecting women, like gender-based violence and early marriage. "My wife recently died and now I am looking after our daughter. It is because of my love for Ethel that I am taking part in this project." Photo: Kieran Doherty/Oxfam
REAPING THE REWARDS
Kitabe Terfe from Ethiopia's Oromia region inspects her onion crops. She is part of an Oxfam horticulture project. "To tell the truth my status in the community was very low," Kitabe explains. "We were poor. Since we have joined the group it has become much better. With the loan we got we have become more productive and have learned new skills. We also have food. We are not scared now – we don't have food insecurity. The biggest thing I have learned is to be fearless, and I fear nothing now." Photo: Abbie Trayler-Smith/Oxfam
BUILDING BACK STRONGER
One of the biggest challenges communities in Nepal faced after the devastating 2015 earthquake was access to clean drinking water. Residents young and old came together in Dhading (pictured) to build a 4km pipeline supported by an Oxfam 'cash for work' scheme, bringing safe water to 500 local people. Photo: Kieran Doherty/Oxfam
BACK TO SCHOOL
Pupils at the Mersa school in Haiti – one of five benefitting from an Oxfam project to install toilets. Before children had to use unsafe public latrines or open spaces near the school, which posed a risk to their health and deterred many from attending lessons. Photo: Vincent Tremeau/Oxfam
CHILD'S PLAY
A girl at the Dahyet Qudsaya shelter in Damascus, Syria, takes part in a game teaching children about the importance of hygiene. Other activities organised by Oxfam include competitions, singing, drawing and theatre sessions with their favourite cartoon characters. They give children in the shelter something positive and engaging to focus on, helping them to meet new friends as well as keeping them safe from illness. Photo: Oxfam
GAME-CHANGER 
Tani (4) and Ronny (5) play ball in Eton village, Vanuatu, that was hit in 2015 by Cyclone Pam, one of the worst ever seen in the Pacific. 250,000 people faced unprecedented devastation, with many losing their homes and seeing their crops completely destroyed. Oxfam repaired the water system and distributed food, water, hygiene kits, livelihoods kits, packs of seeds and cash vouchers. Photo: Vlad Sokhin/Panos/Oxfam
SILENT NIGHT
Four-month-old Jalileh* was born en route from Afghanistan to Greece in the Iranian mountains, close to the Turkish border. Her father made the crib that she sleeps in with some metal, wires and a stitched blanket. Jalileh's parents had to flee Afghanistan for their personal safety and the family are in the Filippiada camp in northwest Greece. Oxfam has provided toilets, showers and sinks to provide clean water. Photo: Aubrey Wade/Oxfam. *Name changed to protect identity
THANK YOU
None of the work we do could happen without your support. You helped save lives and rebuild livelihoods after natural disaster struck Nepal. You showed generosity and compassion to those affected by the fighting in Syria. You gave a voice to those affected by the migrant crisis and forced our governments to strengthen their responses. You pushed businesses and institutions to reform practices that reinforce inequality.
You shopped with us in our 46 shops throughout Ireland. You hosted your own events to raise awareness and funds. You donated to our fundraising efforts, including our Oxfam Unwrapped campaign. You supported our Even it Up campaign, to tackle the root causes of inequality.
Together we are changing lives for the better every day. Because we won't live with poverty.
On behalf of Oxfam, Happy New Year!