4 mins read time

Published:

17th May 2022
Oxfam Ireland urge Irish government to tackle big pharma and end vaccine inequity
Just 13% of people in low-income countries have received two vaccine doses, compared to 75% of people in high-income countries, this is translating into a huge death toll… It's time Ireland supported the TRIPS waiver, helped save millions of lives and put an end to this pandemic. 
This was Oxfam Ireland CEO Jim Clarken's rallying call to the members of the Oireachtas committee on enterprise, trade and employment on Wednesday the 11th of May. He was speaking as part of People's Vaccine Alliance Ireland delegation, on the issue of vaccine inequity, and why the committee should recommend that the Irish Government support the temporary waiver of intellectual property rights for COVID-19 vaccines, therapeutics and diagnostics (known as the TRIPS waiver).
Jim Clarken made this argument in the context of the huge profits that the pharmaceutical industry have made from COVID-19 vaccines:
The reality of it is that Pharma has never seen profits like they've seen in the last few years, many new billionaires have been created in the pharma industry
Jim Clarken appeared alongside Professor Aisling McMahon of Maynooth University and Access to Medicines Ireland, Dimitri Eynikel of Médecins Sans Frontières and Dr. Christine Kelly, a consultant in infectious diseases who represented Doctors for Vaccine Equity.
Prof. McMahon outlined how the main effect of a waiver would be to allow low-income countries to temporarily suspend intellectual property rights so entities within those countries could produce generic versions of COVID-19 vaccines, medicines or diagnostics without States facing the threat of sanctions.
Dr. Kelly provided startling statistics on vaccine inequity and the effect on frontline healthcare workers: 'there are still many countries with vaccination rates less than 10% and we know that WHO guidance is that you need to vaccinate 10% of your population to cover the most vulnerable people. For me, this hits particularly hard because as a healthcare worker I know how difficult it is to treat people when you haven't been vaccinated.'
And Dimitri Eynikel, outlined the devastating impact a vaccine resistant variant will have if a TRIPS waiver isn't implemented: 'Are we prepared for a potential next wave, are we prepared for new inequities, when new more portent vaccines, adapted to new variants will arrive. We're not there, we're going to have the same inequity all over again if we don't address the structural issues.' We can't expect developing countries to fight today's virus with yesterday's tools.
The need for change was made most clear when Jim Clarken quoted Wilfred Gurupira, an academic in Zimbabwe: 'it's one thing losing those you love to a pandemic where there's nothing that can be done. But it's quite another, losing people when you know there was something that could be done to help them, but you can't access it.'
You can watch the full hearing here.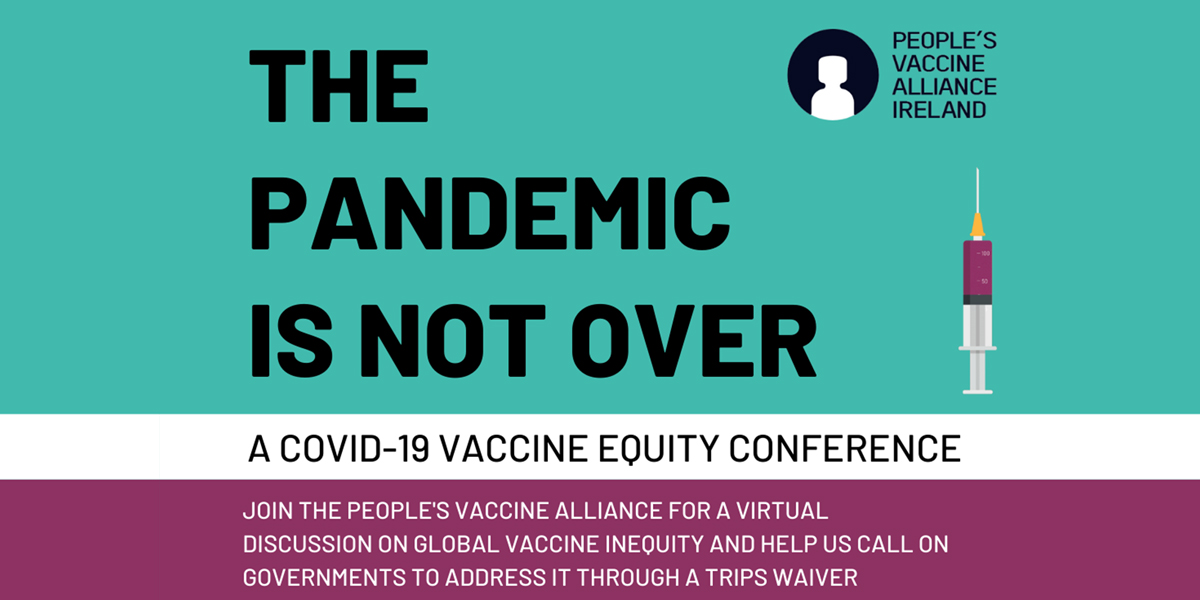 To keep the momentum going in the run up to the all-important WTO meeting in June, the People's Vaccine Alliance is organising an online conference about COVID-19 vaccine inequity on the 2nd of June (10am-12pm). Speakers will include Senator Alice-Mary Higgins, leader of The Civil Engagement Group in Seanad Éireann, & Dr. Luke McDonagh Assistant Professor at the London School of Economics researching Intellectual Property & Public Law, with details of further speakers to follow.
Related Blog Articles