5 mins read time

Published:

23rd July 2014
A child killed every hour in Gaza
Gaza – a place where a child is being killed every hour, where 600 Palestinians have died and where 3,500 have been injured. Of the dead, 74% are civilians, including 147 children. More than 120,000 people have fled their homes but the borders are shut and people have nowhere safe to go.
44% of Gaza territory has now been declared areas that people must leave. The remaining 56% is also dangerous and faces frequent airstrikes.
Around 1.2 million people – two thirds of Gaza's population – have no or very limited access to water and sanitation services. At least 18 medical facilities have been hit by airstrikes and shelling, including hospitals, ambulances and health clinics, while 90 schools have been damaged by shelling.
Half of Gaza's bakeries are not operating and have stocks to last one more week. More than 135,000 people need food assistance. And at least 116,000 children need psychosocial care after their homes have been destroyed or they have had to flee or had family members killed.
These stark figures show how the conflict in Gaza and Israel is having particularly devastating consequences for civilians in Gaza, affecting every aspect of life. Gaza has been under Israeli blockade for the past seven years, which has devastated the economy, left most people unable to leave, and restricted access to essential services. The latest violence is making a dire situation even worse, and will have an impact on people's lives and livelihoods for a long time to come.
Oxfam condemns all attacks on civilians by all sides, and is calling for an immediate ceasefire. Long term peace and security for Palestinians and Israelis alike will only come with a lasting solution that ends the blockade and ensures people in Gaza can have basic rights. The below photos by Mohammed Al Baba show what life is now like for people in Gaza:
The ongoing airstrikes have destroyed everything from family's homes to fishermen's boats, water systems to health centres. These agricultural greenhouses in Khan Younis, in the southern Gaza Strip, used to grow tomatoes, cucumbers, onions and pumpkins. They were destroyed in strikes earlier this week.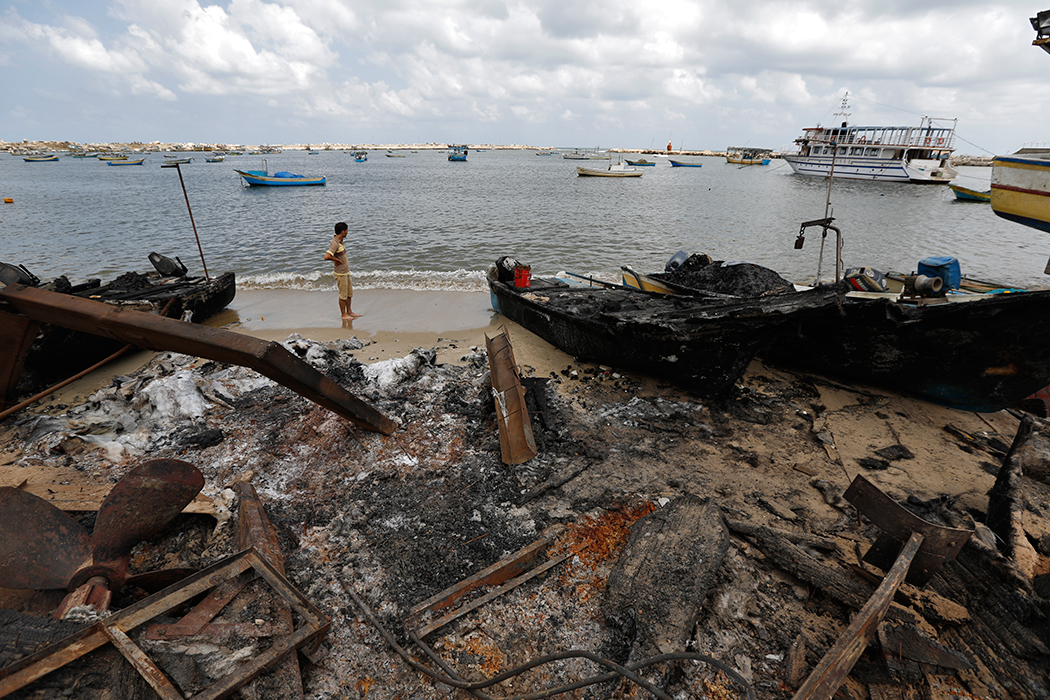 Dozens of fishing boats and more than 1,000 nets have been destroyed. Sabri Bakr's family has been fishing for generations and it is his only source of income. "Before this military operation started, the situation was already very bad. Now my boat is totally burnt and I have nothing at all. I really do not know what will I do now, or how I will even provide food to my children."  Years of restrictions on fishermen's movement have left them struggling to make a living. Under the blockade they are only allowed a maximum of six nautical miles out at sea, and are frequently shot at or arrested by the Israeli navy even within the so-called "fishing zone." Oxfam supports fishermen in Gaza with equipment and technical advice.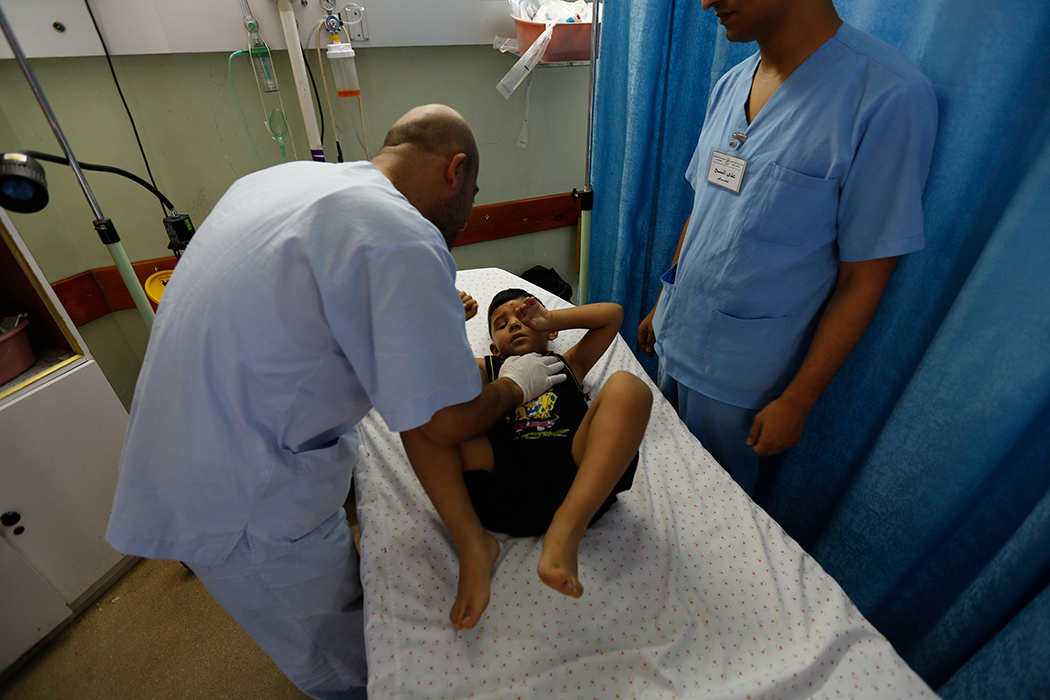 Doctors at the Oxfam-supported Al Awda Hospital in northern Gaza treat a young boy. The hospital is struggling to cope and faces chronic shortages of fuel, with Gaza suffering 12-16 hour daily power cuts under the blockade. "About 40 percent of the casualties we've treated are children, and our medical staff are working 24-hour shifts. If more fuel is not available the hospital will have to shut down many of its services," said Ahmed Manna, Al Awda's Medical Director.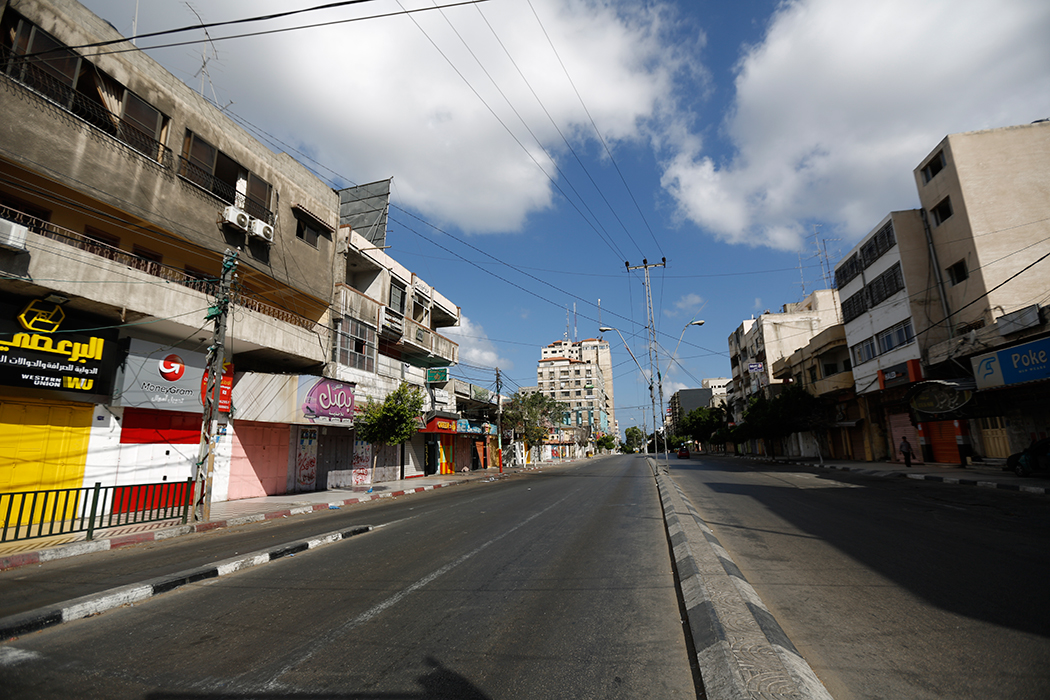 One of Gaza's busiest streets stands empty. Many shops and factories have closed and people are scared to go out. Su'ad, a mother of six, works at a food processing unit supported by Oxfam, producing pastries and other baked goods.  "My children and I are barely able to sleep due to the continuous airstrikes. We are in the middle of Ramadan – the holy month – which is usually our busiest and most profitable time of the year as people spend more money on food and gifts for relatives. This time last year we made $1,000 a week. But since the bombing started we haven't been able to sell anything. Three of my children go to college and their tuition fees depend on the money I make during Ramadan."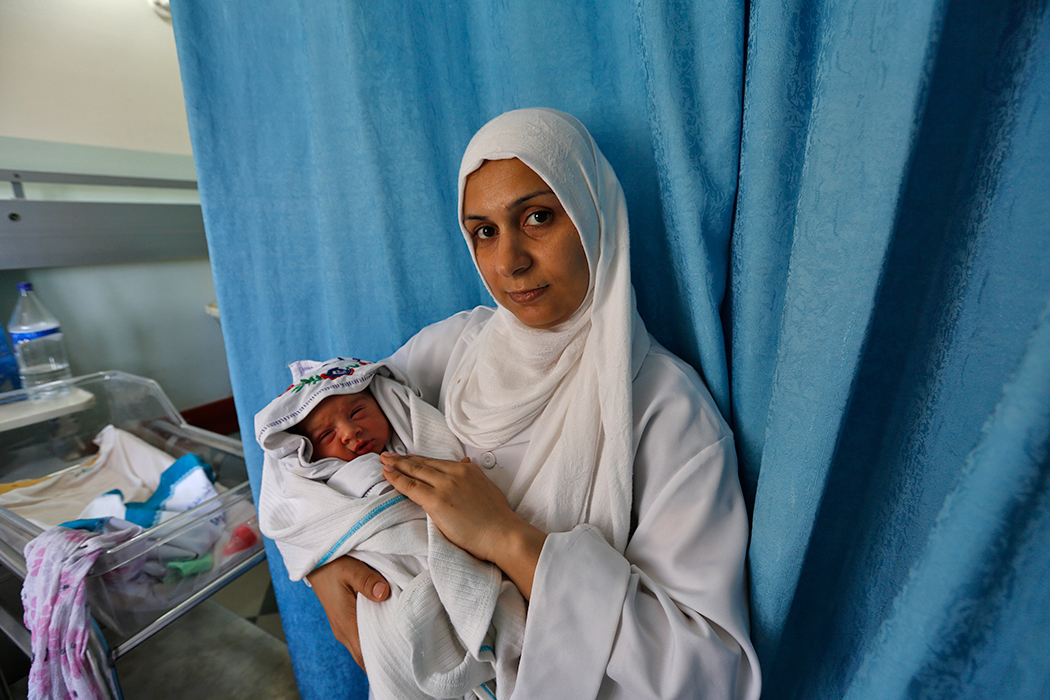 Amid the rising casualties, the Oxfam-supported Al Awda Hospital continues to deliver babies. The hospital is the only one in north Gaza with a specialized obstetric unit for pregnant women. Abeer Al Madhoun gave birth to a healthy young boy this week: "I was so scared to be targeted on my way to the hospital. During the delivery I heard bombs falling around the hospital. I was scared that my baby would be hurt. I'm thankful to the medical teams who are doing everything possible despite the danger surrounding them. My happiness is mixed with fear and sad feelings for the children who have lost their lives."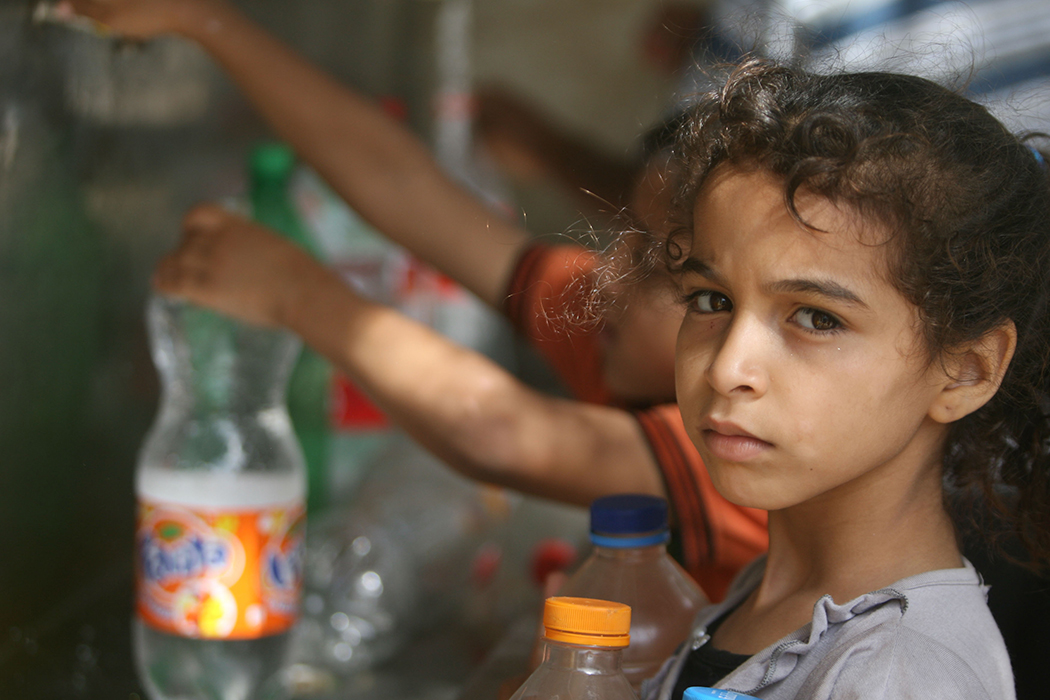 Children in Rafah, southern Gaza, collect water from one of the working public taps. Numerous water systems and wells have been badly damaged in the airstrikes. Sewage plants have also been damaged, with millions of litres of raw sewage spilling into streets, farms and the sea. Even before the current escalation around 90 percent of water in Gaza was already unsafe to drink. The outflow of sewage risks further contaminating water supplies, increasing the threat of disease. Oxfam teams are running public health campaigns to try and reduce the risk.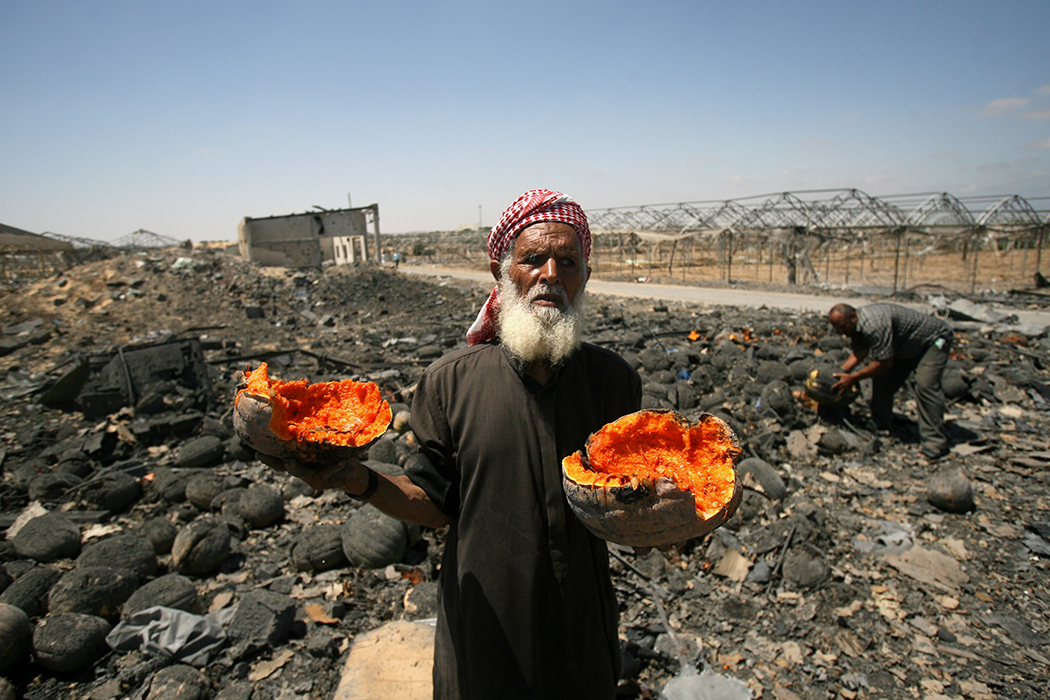 Meleh Al Shaer grows pumpkins on his farm in the southern Gaza Strip. The farm was completely destroyed a few days ago. Thousands of farmers like Meleh have lost large amounts of land and produce – something it will take a long time to recover from. Oxfam supports farmers in Gaza with agricultural equipment and specialist advice.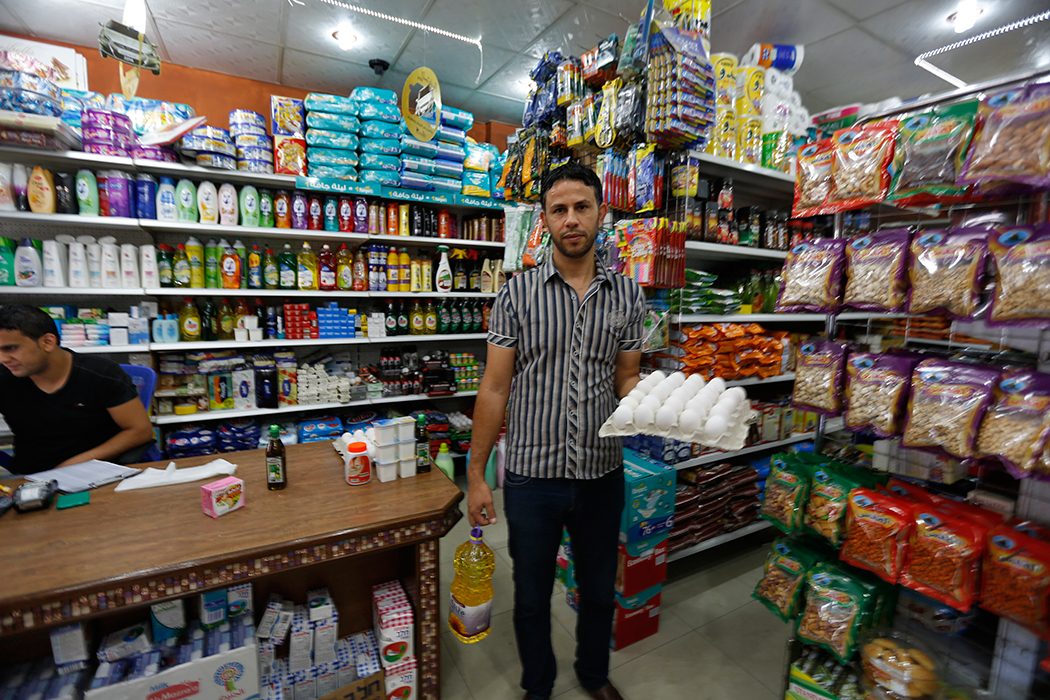 Some shops have managed to stay open. Oxfam is providing food vouchers to hundreds of families who have been forced to flee their homes – so that they can buy food to eat and to support local businesses and trade.
Listen to Oxfam's Arwa Mhanna daily diaries on living under the shadow of drones in Gaza. Recorded: 15 July 2014
'The drones never leave Gaza skies...'
Listen to Oxfam's Arwa Mhanna in Gaza on the struggle to observe Ramadan under siege. Recorded: 16 July 2014
"I hope everyone will be able to spend the rest of Ramadan in peace..."
Related Blog Articles