Take Back Scheme
"The Take Back Scheme" aims to revolutionise the way we view fashion and consumption by encouraging employees to donate their pre-loved garments.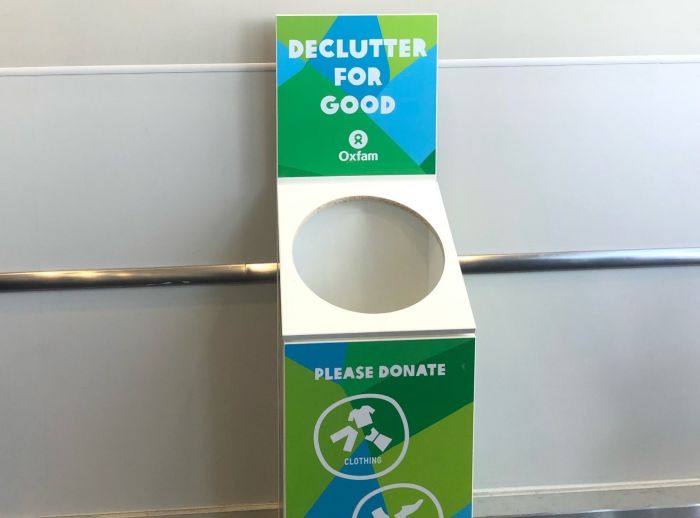 In Ireland, over 300 tonnes of textiles are dumped every year!

In the UK, 11 million items of clothing are thrown away every week!

Throwaway fashion is putting increasing pressure on our planet and its people – and it's not sustainable.
The scheme aims to help improve sustainability, by reducing the volume of unwanted clothing ending up in landfill and giving them a chance to be reused/regenerated in Oxfam Shops in Ireland.
The staff simply donate items of clothing, footwear and accessories to Oxfam via the collection points in the head office.
Anything that is donated will be sold in the 47 Oxfam shops across the island raising much needed funds providing lifesaving and life-enhancing support for vulnerable people in the developing world.
Oxfam Ireland and Hibernia Real Estate Group Ltd Partnership
We have joined forces with Hibernia Real Estate Group to launch a "Take Back Scheme" whereby their employees and occupiers donate their pre-loved clothes allowing Oxfam Ireland to create meaningful change in the lives of others.
By joining the scheme Hibernia have taken a further step towards embracing a more circular economy, where clothing items are recycled, reused, and cherished for longer. Neil Menzies, Director of Sustainability, and Hannah O Keeffe, Sustainability Executive from Hibernia Real Estate Group, shared insights into how the "Take Back Scheme" is helping their business in waste reduction and addressing climate change.
For more information about how your company can work with Oxfam on our 'Take Back Scheme' please contact:
Elaine White - Oxfam Ireland Stock Generation & Business Development Manager on 0044 (0) 7989946332  elaine.white@oxfam.org