"There has been a change in the rainfall pattern over the last 25 years."
Sarah, farmer from Nyanyadzi, Chimanimani, Zimbabwe.
Protecting The Planet
The climate crisis affects all of us but it hits the poorest people hardest, those least responsible for causing it. The devastating impact of shifting weather patterns – droughts, floods and storms – hits poor and marginalised communities first and worst. This leads to failed crops, food price hikes, hunger, conflict and displacement.

But we can transform the unequal systems that are driving the climate crisis. We can hold governments and businesses to account, ensure polluters pay for the damage they have caused and call for urgent and immediate action.
How is Oxfam's Work Protecting The Planet?
We work with partners to protect the rights and livelihoods of people most affected by the climate crisis. We call for government action to help communities cope with its devastating impacts and shift investment from fossil fuels to climate-friendly alternatives. We also pressure wealthy corporations to stop destructive practices, holding them accountable for their greenhouse gas emissions.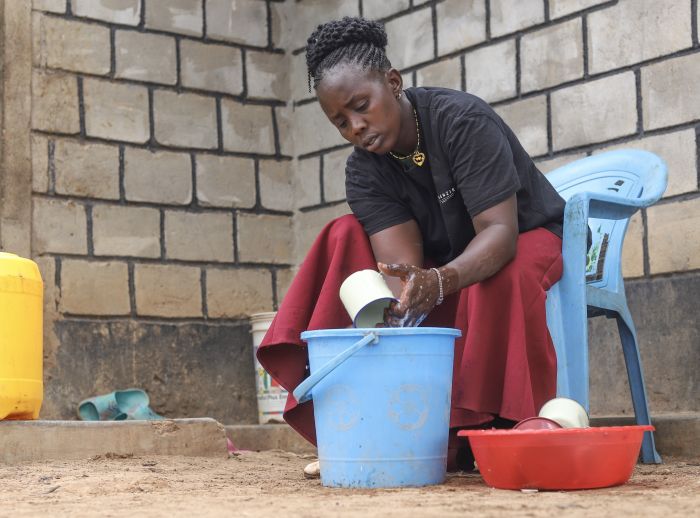 There is enough food for everyone on the planet and yet millions of people go to bed hungry. Extreme weather events are fuelling hunger and thirst, destroying crops and livelihoods. That's why we work with small-scale farmers, local food entrepreneurs, and Indigenous Peoples to reform our broken food systems. We support people to adapt to the changing climate, steward precious resources and call for equal distribution of the world's bounty.
One of the key objectives of our shops is to divert items from landfill and reduce waste. By extending the life of our clothes, we reduce their carbon footprints. We contribute to and call for a more circular economy, one that prioritises reuse, repair and recycle and protects our planet.  
By buying and donating second hand clothes with Oxfam, people are not only shopping more sustainably but also raising money to support people facing the worst effects of the climate crisis.