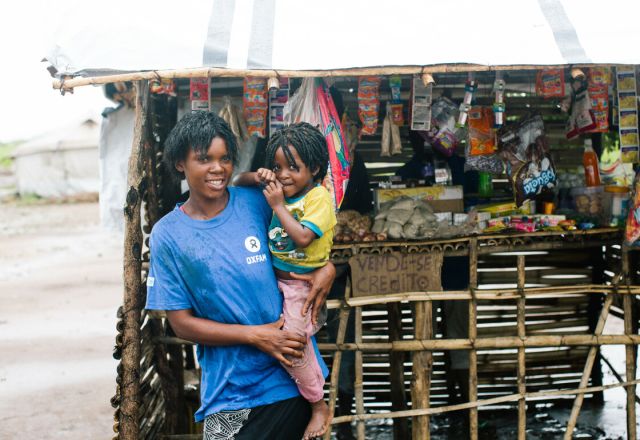 My hope for the future is to build my own house as I have a temporary grass and stick house.
Rebuilding Lives and Starting a Business
Sonia's journey is a testament to the strength of the human spirit and the power of resilience. Despite facing unimaginable challenges, she has remained determined and optimistic, rebuilding her life and pursuing her dreams.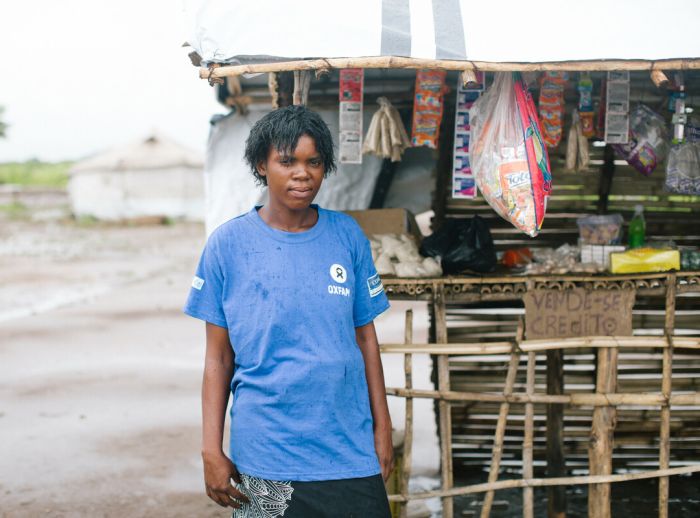 Sonia, is a remarkable 19-year-old woman who has defied the odds and embarked on a journey of resilience, entrepreneurship, and hope.
Despite facing unimaginable challenges, Sonia has managed to not only rebuild her life but also start her own business.
Through her determination and the support she received from organisations like Oxfam, Sonia is working towards creating a brighter future for herself and her two children
Rebuilding Amidst Devastation
Sonia's life took a devastating turn when Cyclone Idai struck. Before the disaster, she worked diligently in her community, encouraging women to register their newborns and attend post-natal follow-up sessions in her hometown of Lamego. However, when Idai hit, Sonia's world was turned upside down.
Her house, along with the homes of her parents and her 3-year-old daughter, was destroyed.
In the face of disaster, Sonia and her family found refuge by climbing up a tree, where they stayed from 11 pm to 4 am. At the break of dawn, they began their journey, walking towards higher ground along the road. The following day, they reached Nhamatanda, where they sought temporary shelter at a local school. Eventually, they settled in the Kura resettlement camp, with Sonia's parents deciding to return to their home in Lamego due to the limited resources and inability to farm in the camp. However, Sonia remained in the camp, determined to build a better future for herself and her children
Working with Oxfam and Starting a Business
In the midst of her challenges, Sonia found an opportunity to support herself and contribute to her community. She began working for Oxfam as an activist and dedicated her time to educating others about the importance of good hygiene and the role clean water plays in reducing diseases.
Her work not only gave her a sense of purpose but also helped her earn an income to sustain herself and her family.
Empowered by her newfound stability, Sonia seized the opportunity to start her own business.
With the money she earned from her work with Oxfam, she opened a shop. Although it has only been a few weeks since its inception, Sonia has high hopes that her shop will become a source of sustainable income, allowing her to provide for her two children and create a better future for them..