I know what it feels like to lose everything.
Empowering Communities and Leading Change
Ibaado Mohamed is a remarkable woman who has dedicated her life to supporting and empowering internally displaced people (IDPs) in Somalia/Somaliland.
With her unwavering determination and passion for helping others, Ibaado has become a powerful force of change in her community.
Managing three IDP camps and collaborating closely with Oxfam, she works tirelessly to provide life-saving support and coordinate essential services for those affected by drought, displacement, and other challenges. 
A Journey of Resilience and Empowerment
Ibaado Mohamed, a 50-year-old woman, stands out against the backdrop of a vibrant purple and blue dress, a reflection of her strength and vibrant spirit.
Hailing from the Laasanood area, Ibaado's life took an unexpected turn when Somalia was struck by a devastating drought in 2015, causing her family to lose their livestock. As the backbone of her family, she knew that change was necessary, and she set out on a quest for a new means of providing for her loved ones.
In a selfless act of determination, Ibaado made the difficult decision to leave her children and husband in the care of relatives as she became internally displaced and settled in an IDP camp.
Over the following years, she tirelessly pursued various jobs and opportunities to improve her situation. Through her unwavering determination, she found work in a meat store and gradually managed to save enough money to move her family out of the IDP camp and into a secure home.
Empowering the Affected Communities
Ibaado's personal journey of resilience and empowerment sparked a deep commitment to supporting others facing similar hardships within the IDP camps. Actively engaging with women's groups and vulnerable individuals, Ibaado became a catalyst for change within the camp. Drawing from her firsthand experience as a former IDP, she was the first to bring attention to the dire situation faced by the community during the devastating drought of 2017.
Driven by her passion for making a difference, Ibaado assumed leadership roles, serving as the chair of various committees within the camp. Recognising the pressing need for effective management and support, she expanded her responsibilities and began managing multiple camps.
Currently, Ibaado oversees the management of three IDP camps, working in close collaboration with Oxfam.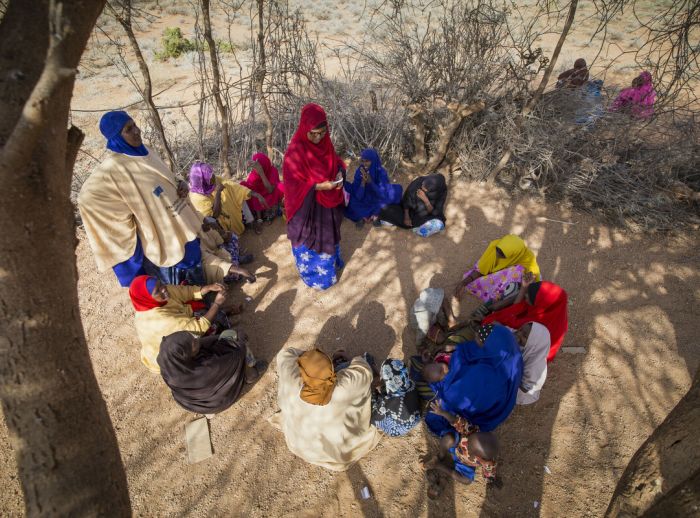 A Recognition of Strength and Dedication
Ibaado's remarkable efforts have not gone unnoticed. Her unwavering commitment and significant contributions to the well-being of internally displaced people have earned her a nomination by the government to become the ambassador of those affected by internal displacement in Somaliland. This well-deserved recognition is a testament to Ibaado's dedication and the positive impact she has made on the lives of countless individuals.
When asked about her motivations, Ibaado humbly expresses her deep empathy for those affected by drought and other disasters. Having experienced the loss of everything firsthand, she understands the importance of support, particularly for women and vulnerable individuals who require additional assistance. Despite facing criticism from some, Ibaado firmly believes in the intelligence and resilience of women, emphasising that they often work harder than their male counterparts and only need the opportunity to shine.
The Value of Oxfam's Support
Collaborating closely with Oxfam, Ibaado coordinates efforts to ensure that the affected communities receive life-saving assistance and critical services.