5 mins read time

Published:

10th September 2020
Climate change, COVID-19 and throwaway fashion – how Dhaka's Garment Workers are some of the hardest hit
During #SecondHandSeptember we will have a series of blogs about the human and environmental costs of throwaway fashion, and how shopping second hand can help both people and planet.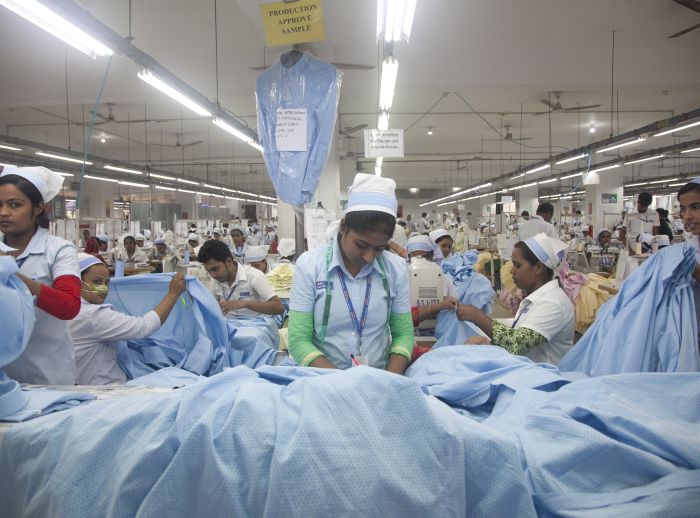 Changes in climate and river erosion are forcing people to migrate from rural areas to Dhaka, the capital city of Bangladesh, where they can make some form of living to provide for themselves and their family.
Eighty-three percent of Bangladesh's total exports are ready-made garments, accounting for five percent of the global garment trade – and with an available, young, and cheap workforce, Bangladesh is an attractive and competitive option for large western fashion brands.
But clothes, produced cheaply, often means low wages and poor working conditions for garment workers.
There is an estimated four million garment workers in Bangladesh – 80 percent of whom are women. Nine out of 10 people working in this industry live in poverty, earning an average salary of €24 a week or €4 a day, with some earning as little as €3 a day.
Much like other capital cities across the world, rents are high. Workers tend to share their living space – often a single room – with up to five other people. As COVID-19 infiltrates our towns and cities, this type of cohabitation now poses news challenges in containing spread and maintaining physical distance.
The COVID-19 pandemic has devastated the global garment supply chains, resulting in over one million workers being fired or furloughed. All parties are feeling the impact of COVID-19; however, not all parties are equal. Factories operate on paper-thin margins and have far less access to capital than their customers, and workers very rarely earn enough to accumulate any savings. Due to order cancellation or postponement by big brands, workers were told to go home with no money. One woman Oxfam spoke with said that:
 "Death from coronavirus is a maybe, but death from not earning is certain."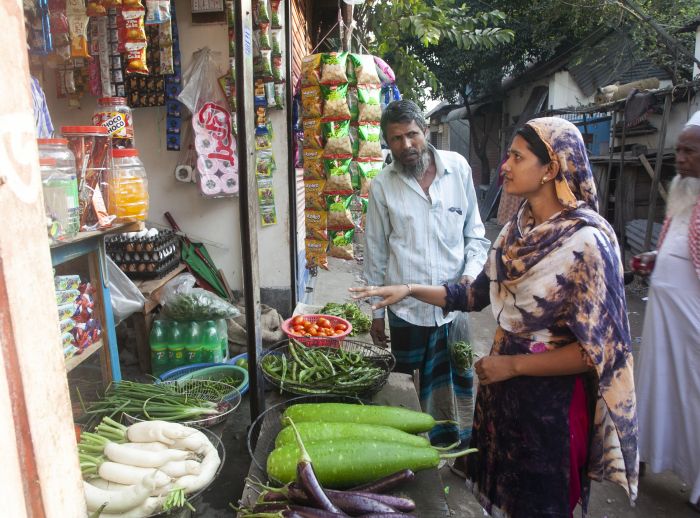 A living wage is a basic human right.
Labonie Akter lives in a Dhaka slum with her sister. Her husband is a rickshaw puller and lives back in their home village with her son.
Her son was four when she left. He is now 10 years old. She told us:
"Brands and buyers are getting richer while we live in a cycle of poverty and our lives are stagnant. I hope things get better in the future…"
Three of the richest men in the fashion industry are worth over $100 billion while the women at the bottom of the supply chain are paid a pittance.
Garment workers face poor housing, high living costs, and no medical care, and are often forced to do overtime at the same rate. Women do not get proper maternity leave and they are forced to work long hours to meet order demands.
People tend to run out of money by the end of the month, take loans out, and run into debt to survive. They also experience family separation, and in some cases, children are taken out of school to work in factories to pay the bills. This keeps the cycle of poverty going.
International pressure is helping and the government has set up a special task force on wages. However, big brands should be using their influence to ensure collective bargaining is respected and should invest a portion of their profits in improving the industry.
Currently, two percent of the retail price of a typical garment goes to the women who make them. Less than one percent of the production cost would be a huge benefit to workers if brands absorbed it.
We want brands to commit to a living wage and publish a timetable for a transparent supply chain. And we are seeing a shift at a policy level and credible commitments from some brands, with some already 80 percent of the way there.
Basic Shirts is one Bangladeshi factory working with Oxfam and the UK's John Lewis Foundation to help the safety and security of their workers.
Basic Shirts Chairperson Mohammad Nurul Islam said: "Profits can be six times more than our unit price. I understand there are shipping and transport costs – but every little more they pay means we can pay the women more.
"If we are paid five cent more per shirt, that's five cent I can pay to the worker – lives will improve and workers can enjoy their life."
The situation for garment workers in Dhaka is just one part of the story - it tells of the human cost of throwaway fashion. But there is also a vast environmental cost to our fashion choices.
Related Blog Articles