Forced migration separates families. It wrenches children from their parents and grandparents, separates siblings, forces partners to live apart, and destroys extended family networks. Over the past months, Oxfam has interviewed people that have been stranded in Greece and asked them to share their experiences during their perilous journeys to Europe and the separation from their family. The right to family life and the protection of the family is a shared value that cuts across cultures.
People who were separated from their family talked to Oxfam about the severe impacts separation has on their lives and wrote letters to their loved ones in other EU member states.
Abdul
Abdul from Herat, Afghanistan, hopes to reunite with his wife and son in Germany. He wrote a heart-warming letter to them, while he waits for his family reunification request to be processed in Epirus.
"Greetings to my wife Zahra Ahmadi and to my dear son Mohamad Taha Jan that are now in the city of Hamburg, Germany. I hope both of you are in good health and spirit. I hope one day I will be next to you and once again we live together. May God protect both of you.
With respect,
Abdul Algafar Ahmadi
Abdul, a refugee from Herat in Afghanistan, who fled to Epirus, Greece. Photo: Felipe Jacome/Oxfam
Najat
Najat fled with only a few members of her family from the town of Afrin in Northern Syria, and she now lives in Epirus, in Greece. She hopes to reunite with her oldest son who arrived in Germany in 2016.
"My dear son Mohannad,
How are you? How is your health?
I am your mother in Greece. Thank God that we are OK, nothing is missing, except seeing you and your brothers. How's your health, and everything else?
Let me know about yourself."
The EU and its member states, including Ireland, are failing to protect the right to family life for migrants, including refugees, as the new policy brief of Oxfam 'Dear Family' showcases. Their policies and practices are tearing families apart, forcing them to continue living apart after being separated during displacement and exposing people to risks.
The 'MikriPoli' Community Centre is based in Ioannina, the North-west region of Greece where Oxfam operates. Itwas established in March 2016 by Terre des Hommes and Oxfam, thanks to the support from European Union emergency support funding (ECHO). The centre helps provide cross-cultural communication and simultaneously supports people who arrive in Greece seeking safety and dignity.
Najat fled with only a few members of her family from Afrin in Northern Syria, to Epirus in Greece. Photo: Felipe Jacome/Oxfam. 
Hazem
Hazem is a 20-year-old Syrian asylum seeker who lives in Greece, and who also works in the Mikri Poli Community Centre. Hazem shared his feelings about the separation of his family, and sends a powerful message to European governments:
"I am almost 20 and I live in an apartment in Ioannina, working as an interpreter/cultural mediator for an NGO called Terre des Hommes. My main work is in the community centre in Ioannina.
 "I am in touch with my family, my mum, who has stayed with my little brother back in Syria, my brothers, who are in Germany, and my sister, who lives in a camp in Konitsa. I haven't seen my brothers for two years and my mum for almost 1 year and a half. My mum and my brother are still in Syria. We couldn't find a way for them to join us in Europe or even to be in a safe site [in Syria]. Now, they are a bit safe because of the ceasefire in Idlib. But anyway, this is not a permanent solution, it is a painkiller!
"Honestly, I miss my mum the most, I miss her hugs, her presence inside our home, her delicious food, and everything related to her. I am still stuck in Greece having a sharp desire to continue my studies in medicine which were interrupted due to conflict and study also about cultures and religions, how they affect each other, and how to approach people from different backgrounds. I want to take the next step and learn a new language and integrate with the society. It is still hard to feel stable. I am worried about the rest of my family and this is a sharp challenge.
"Regarding that, I have something to say to the European governments: We are still human, please, support the family reunification more and give it more importance. Because people are suffering from family dispersion and I am one of them."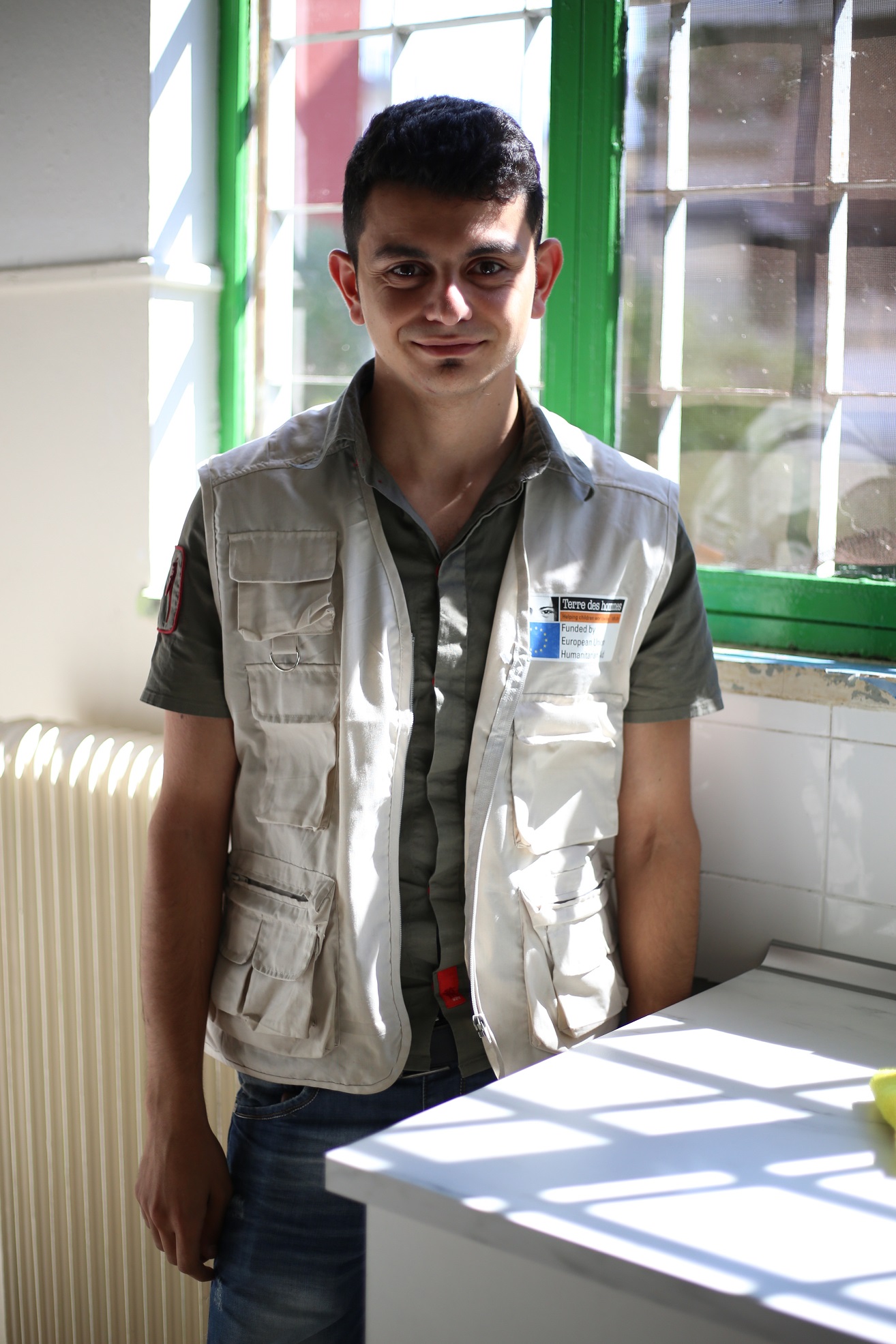 Hazem is a 20-year-old asylum seeker now living in Greece. Photo: Angelos Sioulas/Oxfam
How will the EU respond to Hazem and so many others like him?
As well as working to give practical support to people forced to flee, Oxfam has been campaigning for changes in the law to help people find safe and legal routes to escape from war and persecution, and measures to help families torn apart be united and find safety together.
Find out more information about Oxfam's Right to Refuge – Keep Families Together campaign. You can read Oxfam's new policy brief on refugee family reunion in Ireland here and the full 'Dear Family' report here. Find out more about Oxfam's humanitarian response in Greece here.